Written by Stephanie Carmon
Flamante Burgers
Flamante has become a household name, especially for burger lovers who live in Centro. They opened about 2 years ago and are owned by a young couple, Eduardo and Aremy, from Mexico City. They are burger lovers and have developed a menu of awesome burgers of both high– grade meat and veggie as well as salads, appetizers, desserts, specialty juices and coffee. They make all their own sauces and ketchups (including a really good curry ketchup)! 
The chefs are also constantly adding to the menu. Their latest add is a killer Flamante Bacon Sandwich, their version of the BLT Sandwich, but with avocado and chipotle aioli. They also have some awesome sides such as space balls (fried balls filled with Monterrey Jack, cheddar, jalapeño and bacon), and sweet potato or yuca fries.
When you go to Flamante you really feel the good vibes of a local burger joint. Eduardo and Aremy are almost always there to greet you and ask how things are going. They have a great loyal customer base. The place is simply decorated, trendy and comfortable. It's unique and a fun spot to hang out. They project silent movie animations in the background which gives a chill ambiance. The music is alternative soft rock or beats. 
**Vegetarian and Vegan Options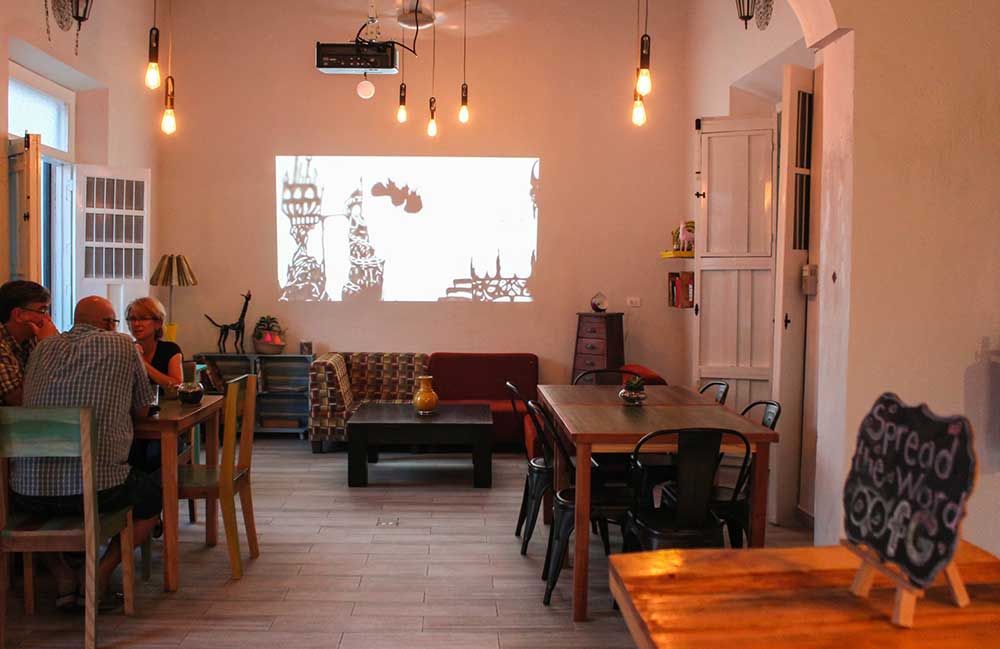 Nabil Montejo
Nabil Montejo which is a new restaurant on Paseo de Montejo. It just recently changed ownership and the new owners are friendly and the staff is great! The location is perfect and it is so nice to see more trendy spots pop up on Montejo. It's elegant but casual and everything we tried was delicious. You can get an awesome cocktail because there is a full bar and mixologist.  Our regular choice is the Montego Chill which has tequila, watermelon and cointreau – yum! The interior design is trendy and urban cool with an open–kitchen format where you can see the chef and cooks prepare your food behind a glass wall separating the kitchen from the dining tables.  It's elegant but casual, and really a nice spot to eat. They have several outdoor tables and lots of space indoors as well. 
We have been there for both dinner and for the Sunday brunch and both times we had great food and there was live music by saxophonist Beto Hernandez and drummer Jacinto. They make a great duo and play jazz with a middle eastarn twist. Some of our favorites from the menu were the beet dip, with freshly made pita bread, to the lamb kofta and tahini and the eggs benedict for brunch are incredible. It's absolutely worth checking out. 
Live music on Saturday evenings at 8pm and Sunday morning for brunch at 10am. 
PROMOTION 2-6pm every night there is 2×1 on selected drinks.
Location: Paseo de Montejo between Calle 37 & 39

Open hours: Monday to Sunday 8:00am to 10:30pm 

Facebook:

https://www.facebook.com/nabilmontejo

IG:

https://www.instagram.com/nabilmontejo/



La Bottega 
La Bottega is one of the newest additions to my favorite avenue in Merida: Paseo de Montejo. It is located in what I always thought is the ideal spot for a restaurant or cafe: on the corner a block down from the Monumento a la Patria. La Bottega is a wine bar and deli and the perfect place for a lunch or evening dinner, or to have a glass of wine and chill with friends while watching passersby on Paseo. Inside the deli store is a large selection of wines from around the world, microbrews, teas, and gourmet items. Their deli has fine cheese and deli meats as well as some awesome desserts. 
The menu offers breakfast, lunch and dinner, a variety of cold cuts and cheese platters, as well as pizzas, sandwiches and salads. I have been there several times just after work to have a nice meal and a few glasses of wine either by myself or with a friend. I also have to admit I always have a dessert, the alfajor cookie is the best I have ever had! The service is always great. I usually like the wine I drink so much that I buy a bottle from the deli to take home for myself. It's a nice new hot spot to check out for sure.
Location: Paseo de Montejo and Calle 29 

Open hours: 9am-10pm
T´HŌ APERITIVO at

Casa Tho

Casa Tho is a Concept Design and Fashion house located in a stunning colonial on Paseo de Montejo. There are several stores featuring excellent Mexican designers and you can find clothing, perfumes, jewelry, art and much more as you browse through the spacious and graceful stores. This is a space that is incredibly inviting because of its fantastic design. It is all white, with a large indoor patio and the stores line the peripheral part of the courtyard. It feels open and airy which gives you a sense of great elegance and it is definitely one of the most Instagrammable places in the city. 

T´HŌ APERITIVO is the cafe inside Casa Tho and the concept is to serve appetizers and refreshing drinks to those who are resting in the interior patio of the beautiful building. They have some delicious items on the menu such as incredible breakfasts including acaí bowls,  pancakes, appetizers of varied dishes from fruit and cheese platter to babaganoush as well as sandwiches and lovely desserts.  Their juice bar serves refreshing fresh tropical juices.  It's the perfect spot to stop if you are walking on Paseo de Montejo and enjoy a beautiful environment, peruse the shops and eat in the patio.  I enjoy going bringing friends there and chatting over coffee or juice and a late breakfast. 
Location: Paseo de Montejo between Calle 45 & 47

Open hours:

Monday to Saturday

10:00am to 9:00pm 

Facebook: https://www.facebook.com/CASATHO
Voltacafe
Voltacafe has become a household name for those who love fine coffee and great food. Their first  branch opened in Altabrisa a few years ago.  I have been a customer of theirs since they opened their doors. We are now excited to have them in Centro!  Volta is open for breakfast, lunch and dinner.  It has an extensive list of gourmet coffee brews, and a full bar with some awesome cocktails & wines.
Live Music every Thursday 7:30pm  in the outdoor patio!
The Coffee   They serve only the highest quality organic coffee taking great care of where the selection comes from, how it is transported, conserved and prepared. They offer various styles of preparation such as:  Chemex, Japanese Siphon, Cold Brew, and the V60.
The Food  A fusion of Oaxacan and international cuisine. Volta gives the vibe of a place to gather, enjoy great food and conversation on a leisurely day. Exactly what I did the last time I was there.
Some of our favorites include omelete with pesto and vegetables with salad, the  Francesinha which is a sandwich made with homemade thick sliced white bread, sausage, grilled beef, cheese and topped with a creamy beer sauce and a fried egg – it is super decadent and way too good! And we LOVE the Tlayudita con huevo – a corn tostada with lard, black beans, cabbage, onion, topped with fried eggs.  The also have a Sunday brunch vibe and you can have mimosas or  tinto de verano Everything was absolutely delicious.
They are open for breakfast, lunch, and dinner.