Written by Stephanie Carmon
It always amazes me how the most sophisticated and exemplary endeavors usually start out with just a simple dream, a hard shot of determination, creativity and self-confidence. Chef Roberto Solis started his restaurant simply because he had a vision of bringing a fine dining experience to Merida. When he started his first restaurant, he had no formal training as a chef nor did he know then that the kitchen would be his calling. Now, sixteen years later, he is among the most celebrated chefs in Mexico.  
When Solis was younger he went to the United States and got quite a wide exposure to the food and wine scene there which planted the gastronomic seed. When he got back to Merida, he started doing many odd jobs and soon he got an internship in Fiesta Americana Hotel helping in the kitchen. There he met his first partner who was the executive chef at the time. Together they decided to venture upon the world of fine dining and bring a new culinary concept to Merida.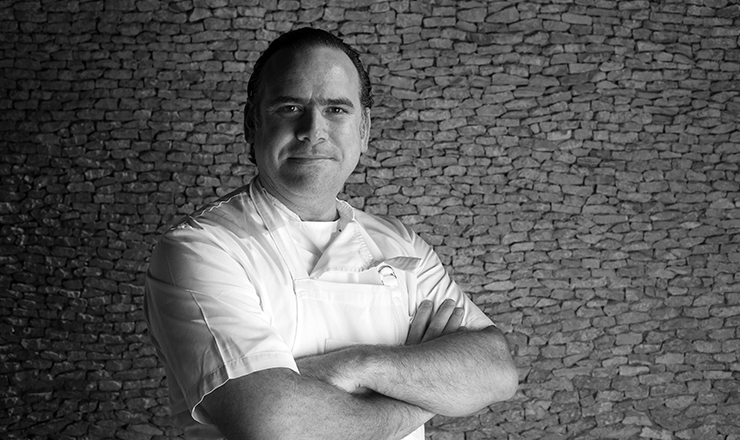 During the summer months, as Merida turned into a ghost town because locals all headed to the beach, many of the businesses would close for the summer. Nectar was no different. For those months, Solis was driven to continue to develop his new love of the kitchen. Through pure will and a bit of good luck, he headed across the pond to England and showed up unannounced on the doorstep of the now-famous restaurant The Fat Duck to ask about an internship. He was accepted as an intern and that summer was the start of his transformation from amateur cook to chef creating elaborate dishes using cutting edge technology. 
The following summer he headed to Noma Restaurant in Copenhagen, where Chef René Redzepi inspired him to take pride in the local cuisine and use the rich ingredients from home in all dishes.  He later interned with Thomas Keller at Per Se in New York City. Then the next summer was his final apprenticeship where he tried his luck with Narisawa in Tokyo. They had never accepted an intern before, but Solis was accepted. When he asked why they told him because it was an honor that a man that already had an established restaurant would want to learn from them. So it was there that he learned the art of the Japanese kitchen. His determination and willingness to learn from the best forever changed the path of his kitchen.
In 2013, he had split from his partner and opened a new at its current location with a fully elaborated menu he calls the New Yucatecan Cuisine. As you walk in you can see the kitchen; the chef and staff cook right in front of you. It is a chic and dynamic ambiance. The wine list is impressive and includes wines from all main wine-producing countries in the world with a wide and specialized collection of Mexican wines. The menu celebrates the Yucatecan flavors and ingredients at the same time playing with the influences from all his years of apprenticeships. Some of my favorites on the menu are tempura onions in black recado and xcatik mayonnaise; Yucatecan grilled octopus with coconut sauce, labne, hummus, xcatik and cured cucumber; for dessert the banana leaf tamale with coconut ice cream is phenomenal. It's been hard to move into the Yucatecan market because the locals are very loyal to their traditional way of cooking; nevertheless, the new Nectar has been a great success and Chef Roberto Solis has made a name as one of the great creators of the new Yucatecan cuisine. 
As he continues to grow as a chef and push the envelope, he has just opened his doors to a new restaurant that I had the delight of visiting just this week. It is called Huniik which means unique spirit in Mayan.  It is right across from Santa Ana Park in the heart of the Centro. As you walk in you see the sleek design of a stone wall and pastel-colored chandeliers. The art and decoration are designed by artist and Solis's partner Jorge Pardo. The woodwork in the tables and chairs are incredible and worth noting the details.
The restaurant is an intimate space with only sixteen seats. It also has an open format where you can see the hustle and bustle of the quite frankly beautiful kitchen. For now, they have a set seven-course menu. It is not a pretentious menu, but a very original and well thought out burst of flavors. They order all ingredients from the direct source ensuring that products are fresh or straight out of the garden. They make everything from scratch on the same day.  That is why it is reservation only. If 10 people reserve, then they cook for 10.
As I savored every course, I sipped on a glass of wine looking out the window at the lovely Parque Santa Ana. The wait staff was very knowledgeable and attentive. Chef Solis has a full staff in the kitchen, but  on many occasions he personally cooks for his guests and will visit your table, or maybe sit down to chat. It's a unique and special dining experience. 
In January they will be opening up another larger space in the back of Huniik. It is a different concept: a raw and grilled food bar. 
If you live here or are coming to Merida, Nectar or Huniik are a must-visit dining experience and Chef Solis is truly at the top of his game. 
You can check their Facebook: 
 https://www.facebook.com/nectarmid/