Written by Stephanie Carmon
"Mi little girl taught me how to write, and asked me to tell my life story–how to describe the smell of the sea? The texture of firewood? How can I write about my passion without writing about the kitchen? I should write my recipes, my memories, memories of a seafood and wood-fired kitchen.
[Town of] Comal de Pineda.
October 2, of the year of our heavenly father 1897.  –Micaela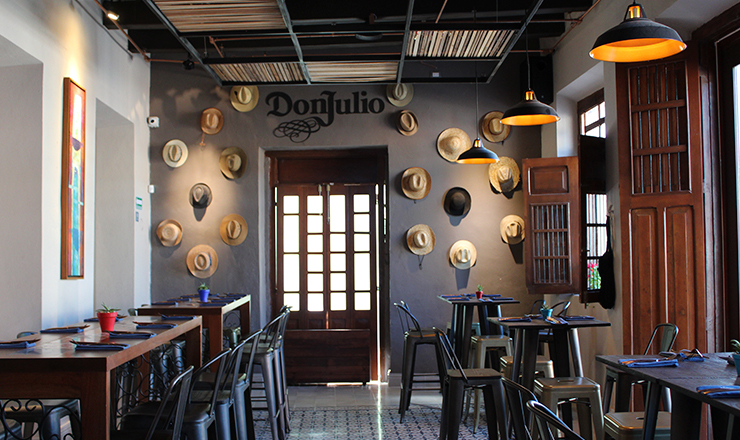 One of the newest culinary hot spots is becoming a local favorite: Micaela Mar y Leña.  Run by Chef Vidal Elias Murillo and his partner Alberto Nacif Figueroa,  it's a seafood and wood-fired kitchen with a flare of cajun.  And it boasts of Merida's first oyster bar.  Michaela is located on what I am now officially calling "Merida's Culinary Row" (Calle 47 between 56 and 52) because of all the great restaurants on that strip of road.  As you walk in you can feel the warmth of the atmosphere; it has a soulful and down-home energy with a hint of urban chic and New Orleans.  The passion Vidal brings to the concept of the restaurant and the kitchen is contagious and, as I sat down to talk with him, he explained to me the folklore behind the inspiration of this new endeavor.
In 2015, after having several restaurants in Mexico, he took the opportunity to travel to the USA and work as chef and manager of Houston's most well-known and best seafood restaurant in its downtown area: The Fisheria.  At The Fisheria, he worked alongside Alberto Nacif a friend from Merida. While in Houston they were making plans to start another project apart from La Fisheria: a small restaurant of "cazuelas"– Mexican stewed meats to be eaten with tortillas or rice — in a suburb outside of Houston.  However, this idea coincided with the election of Trump: when that happened many Mexicans living legally in the US with a high standard of living decided to leave the States and head back home. Those leaving were the potential clients. The outlook of a Trump America wasn't looking good for the Mexican community and so Vidal and Alberto also decided it was time to return to Mexico. 
After an extensive look at the market in various cities, the partners fixed their sights on the city that was ranked first for safety and quality of life, and second for rapid population growth: Merida, Yucatan. It was an easy decision because both Vidal and Alberto have families ties in Merida.
Researching the new concept for their restaurant, they traveled all over Mexico looking for culinary inspiration. During a stay in Mexico City, they wandered into an antique shop. Vidal has a "healthy obsession" with old cookbooks and has over 1,500 books which he carries around whenever he changes cities or countries — to his wife's great dismay!  So that day in Mexico City, he was of course drawn to the antique cookbooks. He grabbed one in particular. It was a diary with entries of thoughts, life experiences and hundreds of recipes. He bought it along with three other books without much thought.  Later that evening while resting at his hotel, he was thumbing through the pages and realized that what he had stumbled upon was a handwritten diary dated back the turn of the 20th Century. It was a treasure chest that opened his eyes to the intriguing, historical journey of a simple and beloved nanny named Micaela.
The first page of the journal wrote:
"Mi niña me enseño a escribir, y me pidió cuente mi vida como de describir el olor al mar? La textura de la leña del fuego? Como hablar de mi pasión sin la cocina? He de escribir mis recetas, he de escribir mis memorias, memorias de una cocina del mar y leña.
Comal de Pineda. Octubre 2 del año de nuestro señor de 1897."
"My little girl taught me how to write, and asked me to tell my life story–how to describe the smell of the sea? The texture of firewood? How can I write about my passion without writing about the kitchen? I should write my recipes, my memories, memories of a seafood and wood-fired kitchen. [Town of] Comal de Pineda.
October 2, of the year of our heavenly father 1897.
You can see this real handwritten note amplified and put on the wall as you walk into the restaurant.
What was meant to be a trip to Mexico City to try get ideas for a new restaurant, ended up being the start of a two-year journey researching the history of this woman Micaela. Vidal, his wife Gabriela, who has a degree in anthropology, and Nacif searched in libraries and national archives trying to discover the story of this woman. The history that unfolded is fascinating and inspired the pure essence behind what is now Micaela: Mar y Leña.
At the time the journal was written  Micaela was woman in her elder years, a mulata, of Afro-Mexican descent.  She was born in Veracruz to an African-American English speaking man named Salomón Tusa and a woman native of Veracruz.  She was one of nine children.  There were two curious things about her father which prompted them to do more in depth research.  Firstly, Tusa was an unusual last name. Secondly, he was a native English speaker. In the early 1800's there were many slaves who were escaping the southern US via an underground railroad across the Mexican border.  In 1811, there was a major escape of one hundred twenty-five slaves from Plantation Whitney in New Orleans. One hundred and twenty-three were caught and killed. Two were able to escape.  One of those slaves was named Solomon Toussa.  Soon after the escape in Whitney, a person of African heritage from New Orleans registered under the name Salomón Tusa in Veracruz, Mexico.  Vidal, Gabriela and Alberto put two and two together and figured that it was this man from New Orleans who made history by successfully escaping slavery in the US, who was Micaela's father.
​
When Micaela was 13 years old her father died, and her mother could not afford to keep her. As was custom in that time, she was going to be married off to an older man. She rebelled against that idea and ran away. She took a train out of town and got off at the last stop which was a small pueblo in Southern Mexico called Comal de Pineda.
Micaela gets off the train and starts to wander the streets and finds her way to the market. It is in the market on the first day of her arrival where she meets a woman named Doña Lorenza.
Doña Lorenza, pregnant with her first child, happened to be the matriarch of the town and was married to Don Anselmo Simón, Comal de Pineda's "big man"– wealthy and powerful. She takes Micaela under her wing and hires her to be the cook in her house as well as to help her for when the baby came. Micaela folds into this new family and becomes their beloved nanny and cook living with them in their large manor. After many years of taking care of the family, Marion, the youngest daughter of Doña Lorenza and Anselmo Simón, teaches Micaela how to write and encourages her to write about her life and the recipes that had fed and nourished their family over the decades. Micaela does just that.  
It wasn't until 2015, that Vidal Elias found this diary handwritten, tattered, eaten by moths –  but aglow and waiting to be discovered. 
Vidal was unable to use recipes in the book because many of the ingredients and quantities were not specified such as "put 2 cents of cilantro" – who knows what that might be in the 1850's!  Knead the dough with the spices from Doña Chole's garden – dough of what and what spices?  So more than anything the diary was an inspiration for the soul of the kitchen at Micaela restaurant; it personified and immortalized her.  
She came from Veracruz, so a big part of the menu is seafood, ceviches, some meats and a wood-fired kitchen. In honor of her father they have included flavors from New Orleans in some dishes. They have dishes named after the people in Micaela's life such as "Don Anselmo Simon's Fish".  Simon is an Arabic last name; therefore, they prepare it using Arabic culinary influences such as ginger and tahini. The plates are big so you can share with family and friends. Chef Vidal makes everything in house including the breads, jarred pickled foods, and sauces. Their desserts are well thought out, and very refreshing. Micaela is a nanny who takes care of you, who gives you affection, who spoils you and feeds you. This is the heart and soul of Micaela Mar y Leña.