Written by Stephanie Carmon
La Libertad 
La Libertad is a fantastic spot for awesome breakfasts and brunch. It has a great ambiance, cool and cozy, the service is friendly and quick and they serve a wide variety of dishes that are all really good!  The last time I ate there they had added a new fried chicken and waffles dish to the menu and, although a bit sinful, it was amazing. It's a local favorite and is usually packed, so be sure to get there early or make a reservation. 
Some of our other favorites are: 
chilaquiles with beans, chile pasilla, caramelized onions, goat cheese and chicken. So good.

Eggs Benedict on homemade artisan bread, with avocado and jamón serrano. (not pictured)

Fried plantain (tostones) with lechón, pineapple and other fresh veggies (not pictured)

Waffle sandwich with turkey and chicken, avocados, lettuce and tomatoes
The atmosphere is charming and welcoming. Súper recommended!
Location 1: Carretera Temozon Norte km 15, next to Rancho Los Flamboyanes 

Open Hours: Everyday 8am to 2pm

Location 2:

La Libertad Plaza Jardín

Av. Andrés García Lavín 334, San Antonio Cucul Mérida, Yucatán

Open Hours: Everyday 8am-4pm

Facebook: https://www.facebook.com/lalibertadtemozon/

Instagram:

https://www.instagram.com/lalibertad.db/
Sanbravo
Sanbravo Seafood and Steakhouse is a large restaurant, modern, fashionable and a great spot for a nice dinner or special occasion. The restaurant has two modern elegant dining rooms.  The bar lining the back wall blends into the grey hues and candlelit ambiance of the main room. The other room, can be used for private events, has a huge screen which covers the whole wall. 
In Sanbravo the Chef's concept is to give the foodies of this town a traditional surf and terf experience while keeping an emotional connection to the traditional flavors of Yucatan, namely the smokiness that distinguishes the local cuisine. The waiter brings by a display of crab legs that you can choose for them to cook up to your liking. They also come by with the angus beef cuts to choose as well. There is a selection of meats and you tell the chef how much you would like, they cut if right in front of you, then head straight to the kitchen to put on the grill!
At Sanbravo they prepare excellent cocktails and the mixologist will on occasion come by your table to explain the options of cocktails available. Its definitely a good choice for fine dining. 
Location: Prol. Paseo Montejo 358, Benito Juárez Nte., 97119 Mérida, Yuc.

MENÚ https://linktr.ee/Sanbravo

Reservations at  999 406 92 74

Whattsapp for Pick up and Delivery 999 174 7966
#meridayucatan #food #seafood
Gin 47 Mixology & Kitchen
Gin 47 is a fun spot on Garcia Lavin because of the incredible view of the city (being on the 8th floor), the good food and mixology. We love going to Gin 47 for an evening out with friends. They usually have a chill ambiance DJ and it's dimly lit.
They serve a variety of specials and unique dishes. Their appetizer list is extensive and one of our favorite things to do is order several appetizers, a gin cocktail, share it and chat with great company. 
Their menu boasts lots of  tempting flavors and some of our most recommended picks are:
Tuna on tostones (dbl fried plantain Caribbean style) my usual when I go super yummy!
Rib-eye salbutes with guac and caramelized onions in red wine
Esquites pibinal corn cooked underground overnight then mixed with queso de bola, shrimp sautéed in garlic and fried Chile xcatic
Boneless yuca chicken bites with a creamy sikil pak sauce
Hamburger Gin 47 topnotch beef, bacon, Caramelized onions, parm cheese arugula
One of the main attractions of Gin47 is the mixology. It is great spot to go with friends for a cocktail and classy night out. Here are our go-to's.
Tho Sour~~ my favorite of the night made with GGin Katúnfeaturing 18 botanics from Mexico 
Gin 47 ~~ Gin, xcatic, cilantro a touch of citrus and black volcanic salt on the rim
For a change of scene and high rise view Gin 47 is a great option. 
Silverfish
Silverfish is a member of the Crabster family and has been a household name here in Mérida for 12 years. This is one of our favorite spots to go on a leisurely Friday afternoon for some great seafood and a glass of wine—although they are open everyday, we and many Yucatecans just like to end our work week here. It's a restaurant that is a spot for Yucatean business lunches and on the weekends there are lots of families who like to dine here.  As is tradition with Yucatecan seafood restaurants, it closes early for dinner. According to local legend, it isn't good for the digestion to eat fish at night. So it's mostly a early and late lunch/early dinner place.
There are some great dishes here and we recommend the house salad which is a twirling tower of ceviche, 250g to be precise made with 4 types of seafood, including some of the juiciest prawns in Mérida.  Their Mediterranean salmon (pictured below) served with mashed potatoes is excellent and the octopus tostadas and tuna tataki are great appetizers. And although not pictured below, I also really enjoy their seafood soups. 
Opening hours: Daily: 12:00-20:00

Address: Avenida 19 #111 Between 7 x 4, Colonia Montecristo

Contact: 999 948 2466

Facebook page: ​https://www.facebook.com/SilverfishMid/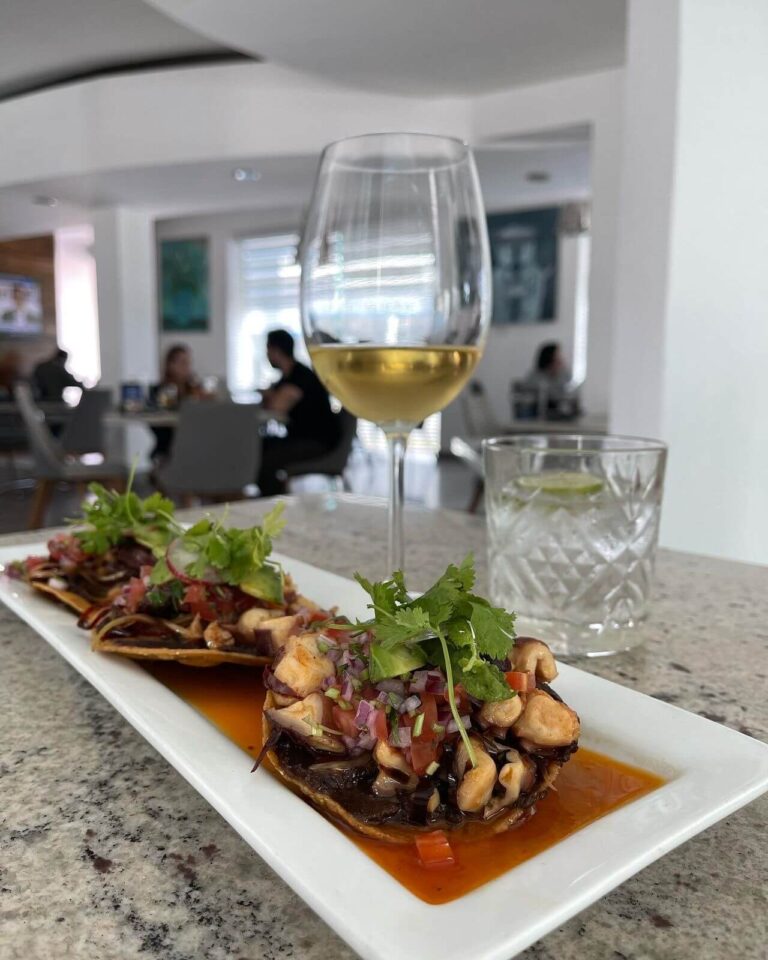 Crabster Playa & Crabster Paseo 60 (Centro)

Crabster is a local favorite Yucatan fine dining restaurant with 2 branches one is in Progreso and the other in Centro at Paseo 60.  They serve breakfast, lunch and dinner and if you head to the beach you have a beautiful view of the pier and malecon de Progreso. At Paseo 60 you have the advantage of being in Centro's coolest culinary and shopping area with live music Tuesday to Sunday evenings. 
Crabster is a seafood and steak house. They serve fresh seafood mostly from the Yucatecan and Campeche coasts such as big crab legs, fish of the day, octopus, oysters from Baja California as well as top quality thick cuts of steak such as ribeye and picaña. Chef Christian Bravo has an extensive menu and this restaurant is a local hot spot. It is also a perfect place for breakfast and especially on a Sunday, it is always packed with families, tourists and locals alike. 
Although it is hard to choose because the menu is very extensive, here are some of our favorite dishes are: 
The oyster and crab leg tower
Coconut shrimp with almonds (not pictured) 
The grilled poc chuc octopus (not pictured) 
For breakfast the seafood omelette is delicious or the eggs Benedict
Any dessert! The desserts are amazing. 
Both branches are open everyday from 8-12pm
MENU: https://linktr.ee/Crabster
Location: Crabser Progreso Malecon de Progreso 

Crabster Paseo 60 Calle 60 y 35 Centro de Merida