Written by Stephanie Carmon
During the months of February and March, we headed out to the beach to explore all things beach Yucatan. Of course on the top of our list was to find the great foodie spots for beach goers. We show you here the tip of the iceberg, but these are some of our favorite spots to eat in Progreso, Chelem, and Chicxulub! 
**For a current update on hours open be sure to check their Facebook page. Protocols are changing because of Covid and times open are extending as well. 
Restaurante Playa Bonita & Beach Club
A public restaurant and beach club on a beautiful small beach in Chelem. Their chef Victor gave us the queen treatment and had us try some of his fantastic dishes. Victor has a decorated career as a chef working all over Mexico including many big resorts in the Riviera Maya. The menu is fantastic.
We tried:
🍹 A super refreshing gin cocktail with grapefruit and mint 
🍍 A piña colada served in the pineapple 
🥥 Coconut rum served in the coconut 
To eat: 
🍤 New Orleans Cajun style shrimp that hands down were the best shrimp I've eaten in a long while 😋😋🃏
🐠 Tuna tartare with mango, jicama and cucumber with an style Asian sauce ~~really good! 
🍗 Chicken filet with salad 
🦞 Grilled salmon served with a simmered lobster sauce which had small chunks of lobster on top of a pressed potato patty. Served with vegetables. Absolutely delicious. 
🍮 For dessert a coconut panna cotta and a chocolate lava brownie served warm with ice cream on top. 
The gastronomic experience was impressive and the beach club is super fun! They have great music, a pool and you can even rent kayaks. The water today was so clear I could see my toes. This is a great spot for the family or just a gathering with friends. 
Open Tuesday to Sunday 11-5pm 

Cost: $100 per person to use the facilities and then the menu is a la carte. 

You can also rent Kayaks. 
Be sure to make a reservation because there is limited seating and it fills up quickly. 
☎️ For reservations: 999 156 5145
We visited Almadia on the malecon of Progreso and had a spectacular meal while watching the sunset over the pier. Almadia is just a couple of years old and is a new hot spot in Progreso. The food, drinks and ambiance are top notch and it is definitely worth a visit. 
They have a terrific raw bar and you can get fresh oysters and clams out of their aquarium, choose a live lobster (when in season), and get a variety of raw and succulent seafood and fish. They also have an impressive menu of seafood, meat dishes and pastas. 
We had a fabulous foodie experience and this is what is looked like: 
🍸 Mezcal, lime, coconut and mint cocktails
🦪Chocolate clams served with a soy sauce and a cocktail sauce on the side. Or you could just squeeze some lime on them and down the hatch!
🦪Caribbean (sweet and delicious) conch served on top of a bed of cucumbers and topped with edible flowers. Conch is my absolute favorite and this dish was a real delight. 
🦪Almadia tostada with octopus and scallops, avocado and onions. Very good!
Main Dishes: 
🥩Steak served on a sizzling grill with mashed potatoes and grilled veggies 
🐙Grilled octopus served on a bed of guava jam and beets–this was an incredible combination. 
🥮Soft and smooth flan topped with strawberries.
Absolutely recommended.
Reservations 969 688 2075

Open everyday 1pm-9pm
3. Crabster Seafood & Grill
 Crabster in Progreso is a favorite upscale restaurant and really the first one to set up shop on the malecón de Progreso. We have been to the Crabster at Paseo 60 several times, but had never made it out to the original one at the beach! So finally making it to the beach restaurant was a real treat. 
Crabster, whose Chef is Christian Bravo—check below for my spotlight article about him—is a favorite upper-end restaurant in Progreso. They serve breakfast, lunch and dinner and have a beautiful view of the pier and malecon de Progreso.
Crabster is a seafood and steak house. And you can eat great fresh, thick cuts of steak such as ribeye and picaña as well as big crab legs, fish of the day and lots of different seafood dishes. 
They also have a mixologist who comes around with her cart to offer a mean cocktail 🍸. We all tried a different one last night and they were delicious. 
Last night we had: 
🦀 The oyster and crab leg tower—there was a lot of sweet meat in the crab legs ~incredible 
🍅 Tomato bisque which Amora said she would definitely order again
🐙 Octopus a la poc chuc with tomatoes and chiles served in a cool wooden boat. Excellent 
🥩 Picaña served with asparagus and potatoes. The steak is very good quality and was a favorite. 
🌮 Chicken tacos served with onions, chili and avocado. 
🥧 And for dessert a lime cheesecake pie. Crabster is famous for their desserts and this one did not disappoint! 
It was a great evening with lovely company. And it's a great spot for breakfast as well. If you are looking for a good, elegant place to eat at the beach definitely give Crabster a try. 
Calle 25 x 60 y 62 Progreso 
After my first great experience at El Toro in Progreso, I ventured back to try some more dishes. Many people told me: "Steph, you have to try their fried fish!", so before I head back to my full time home in Merida, I thought I'd stop by and try some of that fish fry. And man was it worth it!
El Toro was established in 1946 and is a gem in Progreso and a favorite among the locals–you can tell because it is full of locals most days. It was founded by Don Tacho and his son Carlos García and it remains a family business today. It is now managed by Carlos Garcia Puerto, the son of the first Carlos Garcia, and Carlos Garcia Mendoza, the grandson. 
It's a traditional seafood restaurant that is typical of the beaches in Yucatan and when you sit down they serve you an array of "botanas" or snacks–on the house! Perfect to have with a cold beer. They serve a variety of botanas we have tried beets in a vinagreta, potato salad, a fish pate salad, fried corn meal filled with beans, chips, sausage in a creamy tomato soup and squash. It's almost a meal in and of itself! 
As our main dish we tried: 
🐠Fried fish, the fresh fish catch of the day was brought out to our table before it went into the deep frier. 
🐟Pan de Cazon a sort of tortilla lasagna made with layered tortillas, red sauce, refried beans and LOTS of cazon (a small school shark that lives in the water off the coast of Yucatan). 
🍤Shrimp ceviche with a large amount of shrimp. 
🌮All is served with warm tortillas and pickled cabbage to make taquitos. YUM!
We even got a serenade from a guitarist passing by who sings to various restaurants and of course the vendor of traditional desserts made his rounds and we bought some super sugary and delicious coconut desserts. 
If you are in Progreso or heading there for a visit you MUST try El Toro… super recommended.
Reservations: 999 905 3042

Open Everyday from 12pm-5pm 
We had heard great things about Humo Bistro in Progreso, so we decided to give it a try. Just as a the name says it is a "humo" smokehouse that serves some delicious steaks and seafood. Humo Bistro is an upscale/casual restaurant that has a pretty great menu and selection of mixology. They specialize in cuts of meats that they serve to your table fresh off the grill in a glass container that they light up with rosemary to form a beautiful and complex sweet smoke which then infuses into the flavor of the meat. It's a quite the sight to see and a lovely combination of flavors. 
They have both outside and inside dining and the service was very good. Last night we enjoyed: 
Appetizers of: 
🐷Montaditos de lomo–thinly slice pork loin places on a baguette slice, blue cheese and topped with roasted red peppers. Very good! 
🐠Tuna Tartar–make with sesame oil, avocado and topped with fried leek
Of course we also tried a few cocktails that were excellent ~~one was gin with cucumber and rosemary and the other a tropical mezcal drink with a flaming chile. 
🥩Picaña or beef loin grilled served with fried potatoes. The taste was really nice, Smokey rosemary 😋
🧁For dessert we had a chocolate lava cake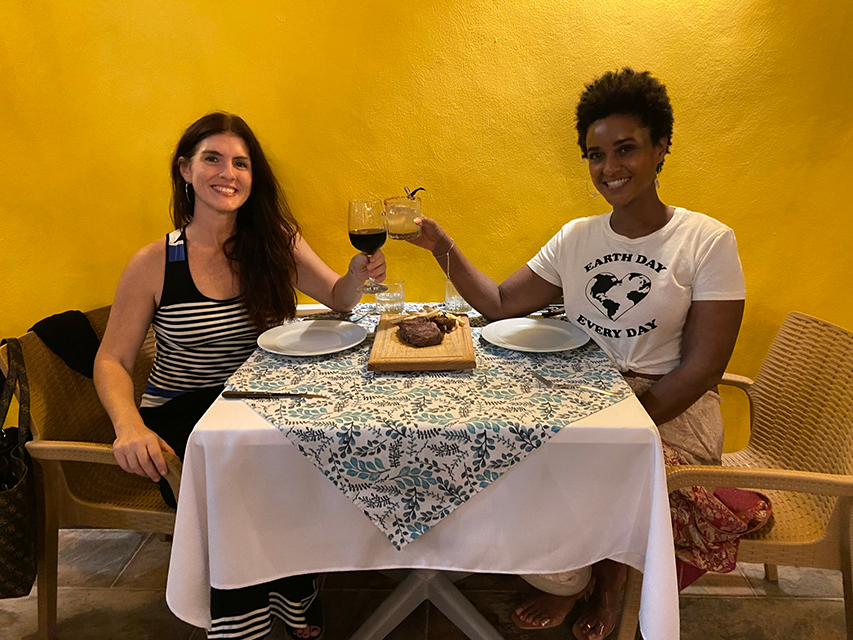 Everything was absolutely enjoyable.
For Reservations: 969 108 0086

Open: 

Wed- Thursday 5pm-10pm

Friday Saturday 2pm-10pm

Sunday 2pm-8pm

Closed Monday and Tuesday. 
6. Vistamar Beach Club & Restaurant
In Chicxulub we went to Vistamar beach club which really does have a fantastic "vistamar" view of the sea. I had seen it on my bike ride two days earlier and the rustic ample sea vibe dining area looking right over the water called me right in. Then and there I planned a date with myself for beer and ceviche on Friday afternoon. 
The following day, I ventured there with my roomie Amora. It's completely roofed but open air. The attention was great and we could see kids playing in the waves and fisherman fishing off the docks. I was very pleasantly surprised when I ordered the torre de mariscos, which was literally a tower of fresh veggies and seafood including shrimp, fish and conch. It was so incredible, fresh and perfect. We hung out for hours and watched the sunset. Then rode our bikes back to our condo on the sand roads led by the light of the full moon. It really was a magical evening. 
It's worth a drive out to eat there. The prices are totally reasonable. The same as most seafood (non-fancy) restaurants at the beach. They are also a beach club so you can swim, they have a pool, showers and you can spend the day. 
Reservations: 999 200 1237
We stopped into La Antigua Progreso on our way back to Chicxulub. It's a beautiful house with high ceilings and a large balcony that is one street from the beach. It looked like a great place to stop for lunch. The menu is innovative and of course has seafood as well as other meat and veggie dishes. They have the molcajete de mariscos (large stone mortar) which we didn't get it but it looked really good on the other tables–seems like a popular dish! It is a combination of grilled shrimp, octopus, fish and cheese accompanied by green sauce and mixed ceviche. 
We tried the crab kibis, chicharron de pulpo and chicken tacos. Plus of course a nice cold beer to go along with the warm afternoon beach breeze. 
Reservation: 969 103 6102