Wednesday, September 6, 2023
UNESCO named Mexico cuisine a world cultural heritage treasure in 2017 which is a title that is shared only with France. The amount of dishes, ingredients and flavors you find in this country is astounding and during the month of September for the Mexican Independence Day celebrations it is a perfect time to experience the glory of Mexican food!
Although you really can't go wrong when trying traditional dishes during this time of year, it is very popular around Mexico to to eat Chile en Nogada or Pozole .
What are these dishes?
POZOLE
Pozole is a hearty Mexican dish that originated with the Aztecs and other indigenous tribes in Mesoamerica. It is commonly enjoyed for events all year round. There are different types, red, green and white (like the flag) depending on the ingredients used.
Pozole is a stew or soup that is made traditionally using pork, although sometimes it can be chicken, and 'hominy', which is processed corn. The stew is slow-cooked and seasoned with a delicious combination of herbs and spices, and is typically topped with garnishes including shredded lettuce, onions, and lime juice.
CHILE EN NOGADA
Chiles en Nogada is an appetizing seasonal dish that is only be prepared between the months of August and September, when key ingredients such as pomegranate seeds and walnuts are in season.
Developed in the town of Puebla in the 18th Century by Catholic nuns, the dish also incorporates the colors of the Mexican flag (green, white and red) and is said to be one of Mexico's most patriotic dishes. It's made using one or two cooked and seasoned Poblano peppers stuffed with a delicate combination of hand chopped meat and sweet ingredients such as apple,  pear, dried fruit and then smothered in a delectable creamy walnut sauce and decorated with pomegranate seeds. The contrast of flavors and textures creates a unique flavor that Mexicans have celebrated for decades.
Where to eat these dishes in Merida?
Vegan Chile en Nogada & Pozole
During this time there are so many meat options, but for you vegans out there it's not always easy to find an option. Now you can! At Vegan Inc. you can experience the flavors and culture with a Vegan version of Chiles en Nogada $260 and Pozole $210. 
Open: 1pm to 9pm Closed Sunday
IG: @VEGANINC.MID
Chile en Nogada & Pozole
Jumiles is located in the Harbor mall and has incredible Mexican gourmet food from all around the republic. For the special this month they will be serving Chiles en Nogada (until Sept 24) $380 and pozole September 15-18
The Harbor Mall in front of the fountain
Open MTW: 8am-12am. THF 8am-2am Sun: 8am-6pm
IG:@JUMILES.MERIDA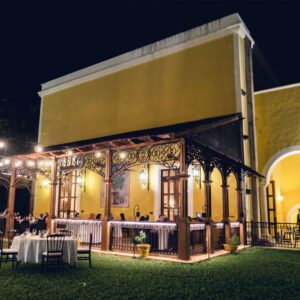 Chile en Nogada
Casa de Piedra Restaurant at Hacienda Xcanatun is a beautiful Yucatecan hacienda dining experience. Their restaurant services traditional Yucatecan food with some Asian fusion and this month their specials are the Chile en Nogada which will be served until September 24  it's available from 13:00 a 22:30  $494 MXN includes a fresh juice.
Location
Open 7am to 10:30pm
IG:@xcanantuncasadepiedra
Chile en Nogada made with local sweet pepper
A lovely restaurant across from the La Plancha park, the concept is Mediterranean cuisine made with all local ingredients. This September they will be serving a local sweet pepper en nogada, a different twist on the traditional dish. Sounds good!
Open Wed to Sunday 6pm-12am
IG:@CADADIA.EN,MERIDA
Chile en Nogada & Pozole
Located in the town of Chicxulub Pueblo, this new restaurant is a must check out spot! They have breakfast, lunch and dinner and serve a variety of Mexican food.
This month they have Chiles en Nogadas and on September 15th they will celebrating with Mexican snack foods, sweets, esquites, marquesitas, pozole and you can watch the Grito in Mexico City, Live on TV!
Open: Breakfast 8am-12pm lunch 12:30pm to 8pm
Calle 21 x 30 y 32 Chicxulub Pueblo
Open: 8am-12pm & 12:30pm -8pm
IG:@NOHOCH_NAH