Written by Stephanie Carmon
November 12, 2021 Congratulations to Siqueff for 89 years of serving Yucatecans in Merida!
If you have spent any time living in Yucatan, or have read anything about Yucatecan cuisine you will definitely have heard or tried the famous huevos motuleños. However, what might be new to you is the rich and endearing story behind creation of that dish. It's another thread in the cultural quilt that is tightly woven into the history of this unique state of Yucatan.
The other day I stopped by the local pub to meet a friend.  As I walked in I saw some Lebanese guys with whom I have a great rapport because of our mutual love of Mexican boxing. As I greeted them and asked them what they were up to, they told me they had just come from Siqueff a local Lebanese restaurant. They were reminiscing and telling me that whenever they come to the Centro they dine at Siqueff because they feel as if it has been part of their family for generations. I had to agree and although I have only lived in Merida for eight years, my grandfather was from Lebanon and when I go to Siqueff, I feel the same warmth and charm.   
Merida is a fascinating mix of cultures and one of the dominant cultures that has become very successful and influential in this town is the Lebanese culture. The first immigrants from Lebanon came to Yucatan in the 19th Century and Jorge Elias Siqueff Simón was one of the pioneers. He came in 1896 as a cloth merchant and was pivotal in promoting migration from Lebanon to Yucatan which eventually lead to the large community that is still very present today. 
Siqueff family in Motul
He settled in the town of Motul and married Doña Mercedes Febles Revueltas and they had three children María Demetria, Amina Elvira and Jorge Farid Siqueff Febles. From an early age their son Jorge Farid Siqueff Febles showed a determined curiosity for cooking. His soul was that of a chef and his passion was found in the kitchen. After many years of experimenting in his family kitchen, he decided to open a café and bakery close to the main park which he called "La Sin Rival" (the Unrivalled). With the help of his wife Doña Dea Margarita Alonzo Villanueva and his sister- in-law Rosita Alonzo Villanueva, his cafe and bakery became legendary for the quality of their products and authentic dishes.
Some of the favorites were deer steak in butter sauce, huevos motuleños, fried chicken xnipek, raw or fried kibi, baba ghanoush, kebabs, french bread, ladyfingers, and other regional baked sweet breads and pastries. Tourists would arrive to Motul because it was one of the main towns on a major highway through Yucatan. Siqueff soon became known as "the place" to stop for great food as both a destination and a pit stop along the highway. It was where people from all walks of life gathered including hacienda owners, politicians, governors, regular workers and even famous celebrities such as Pedro Infante and Gaspar Henaine "Capulina". Siqueff was a simple and welcoming person who took joy in chatting with and personally serving his customers
Creation of the Huevos Motuleños
In 1921, Felipe Carrillo Puerto, the governor-elect, was invited to a breakfast at cenote Sambula in Motul. Carrillo Puerto, a native of Motul, was a Mexican journalist, politician and revolutionary who became known for his efforts at reconciliation between the Yucatec Maya and the Mexican government after the Caste War. He was a socialist and was governor of Yucatan from 1922-1924. Siqueff was to prepare his breakfast and understood the personal taste of the governor quite well: eggs, refried beans, accompanied by tortilla chips and chiltomate (a salsa with chopped tomatoes and chiles.)  Siqueff wanted to make a dish similar to the tastes of Carrillo Puerto; however, he wanted to add his special touch and embellish it.
He did so by changing the chiltomate sauce, he made a fine sauce frying onions in olive oil and adding the diced tomatoes and smoked Spanish ham chopped in cubes and when the sauce was finished cooking, he added peas. He served the dish by layering the ingredients. The first layer was refried beans, on top were placed two fried tortillas, next was placed two fried eggs and then the sauce and peas on top. Felipe Carillo Puerto delighted in the meal prepared for him by Siqueff. When he was asked by other guests and the press what his breakfast was he proudly replied: Huevos Moluteños. 
Siqueff's Ventures in Merida
Don Jorge Siqueff was a creator and promoter of the gastronomy and bakery of Yucatan. He was an innovator and decided to open a bakery in Merida where he introduced the first mould machines for sliced bread to be used in the state. In 1956, the bakery was being built at the same time and across the street from the Monumento a la Patria on Paseo de Montejo. Both builders were in competition to see who would finish first! Although now this bakery no longer belongs to the Siqueffs, it was in the family for years and Panificadora Montejo continues to be an icon of baked goods in the city.
In 1959, Siqueff decided to open another restaurant in Merida and on Calle 59 near 68. Siqueff Restaurant was the house and restaurant of the Siqueff family. Of course in town the restaurant became a Yucatecan family tradition: finally those who loved the Lebanese and Yucatecan dishes didn't have to travel all the way to Motul. In 1970, Don Jorge Siqueff passed away. His son Jorge de Jesus Siqueff Alonzo together with his wife Doña Estelita del Socorro Villanueva Gonzalez de Siqueff continued his passion and legend. As the years went on the restaurant and bakery in Motul closed its doors for good; however, the tradition continued in Merida on Calle 59. In 2001 they moved to the current location on Calle 60 between 35 and 37. Today, Maria Jose Siqueff Villanueva, third generation Siqueff, continues serving and bringing Merida the familiar and loved flavors of her grandfather's kitchen.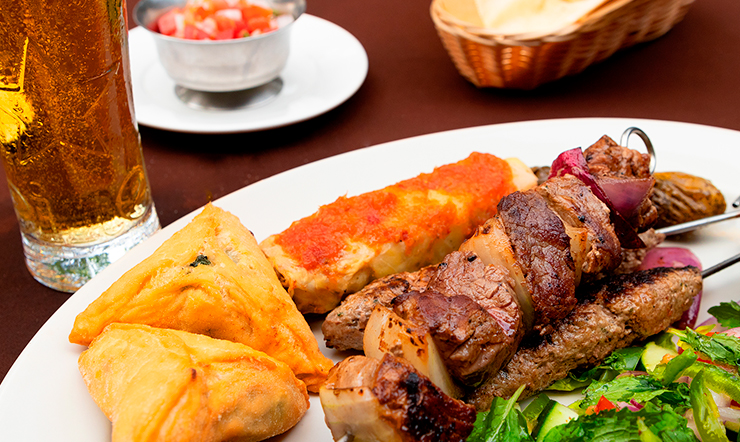 Siqueff: "Made Famous by Its Customers"
Countless Yucatecan families cherish and have felt part of the Siqueff family for generations. Maria Jose warmly recounts how the children that would run through the halls of her grandfather's restaurant now bring their children and grandchildren to do the same. The flavors and kitchen of this local gem is very much part of the Yucatecan home especially in the Lebanese community. It has withheld the test of time and has been in the state and in the Siqueff family for 3 generations and nearly 80 years. Next year they are hoping to celebrate this milestone anniversary with all their devoted patrons who have been loyal to them throughout the history of their existence and are hoping to become part of new families and new migrations coming to Merida. As Don Jorge Farid Siqueff Febles used to say: "Siqueff: Made Famous by Its Customers."
Some of the House Specials Include:
Huevos Motuleños
Rice and Lentils mixed with spices and Mint topped with Fried Egg
Arabic Eggs with Kafta
Confetti Arabe a mix of several traditional Arabic appetizers
           such as baba ghanuosh, hummus,    kababs,  kibi, and grape leaves
Fried Chicken Siqueff style (one of my personal favorites!)