It's hot in Merida just about every day of the year, finding good ice cream throughout the city should be everyone's top priority.  And with more and more vegans in town, vegan ice cream is becoming very popular! Here I have come up with some great places to get a cold scoop of pure heaven that is vegan friendly.
1. Distrito Vegano
This vegan restaurant to the North of centro in Francisco de Montejo can offer more than just ice cream.  
However, with two different vegan ice cream options it's worth the trip and it's spot on this list. They serve Vordikos by Blue Deer which are artisanal ice cream sandwiches. You can order small batch banana vanilla or strawberry filling between two homemade chocolate cookies. If you want something more traditional they also serve balls of organic ice cream by Maretai. This company is one of the first small scale ice cream makers in Merida dedicated 100% to organic, vegan products. Their coconut milk based ice creams range in flavors, my favorite is the peanut butter or their original coconut. Distrito Vegano is a place you can come for the ice cream options but stay for the tortas and tacos.
Location: Behind Plaza Galerias. Calle 41 between 40 and 42, Francisco de Montejo, Mérida, YucatanHours: 1-11 pm Wednesday-Monday (closed Tuesdays)
All the rest of my recommendations are in Centro
2. Casa PipiCucu
If you are in Centro this is a proper ice cream parlor with a good attitude. Located just a couple of blocks off the Paseo de Montejo this pink and green parlor is full of neon signs, pop art and other artifacts worthy of your Instagram newsfeed and stories. The signature look is hanging out of their open storefront window while enjoying your cone, crepe or another dessert. But, don't let your heart run too wild, not all the offerings are dairy-free. Ask about their vegan flavors as they change by season and availability. They usually have 2-3 different flavors to choose from often made with creamy soy, coconut, and almond milk bases. You can have a bowl or cone and they often have vegan cookies too, but if you want something more adventurous I suggest their little vegan bread and ice cream sandwiches. The juxtaposition of warm soft bread with melty cold ice cream dripping out of the side is still one of my food daydreams weeks after eating it. You won't be disappointed by a trip here and you'll still have something else new to try after 3 or 4 visits. Location:
Calle 47 between 54 and 52, Centro, Mérida, Yucatan
Hours: 4-11 pm with extended hours on weekends. (open daily)
3. Heladería el principal
First things first, don't confuse this place with la principal across the street. Both offer traditional Yucatecan ice cream and sorbet but only el principal brings me across town over and over again. This place is offering the real deal Yucatecan sorbet which is not like creamy milk heavy dairy desserts many are used to. Don't go here if you are expecting European style treats, do go here for an authentic Yucatecan experience.  I often go to this place for a pick me up and refreshing cool down after stocking up on bulk beans from the Centro market. I never feel weighed down or bloated after eating their various flavors. I usually have a cup in the house (even though there is zero seating) then I buy 1-2 liters of various flavors to eat at home. That's the best part, they encourage buying in bulk for your late-night snacks. They offer many of their tropical flavored sorbets made with water and their boards easily separate the flavors that have milk. I'm especially fond of their mandarine flavor, but when in doubt ask for a trial before you buy. El principal has the best traditional Yucatecan fruit cream sorbet you can find in the whole city.
Location: Calle 66 on the corner of 65 Centro, Mérida, Yucatan
Hours: 10 am-9 pm (Closed Sundays)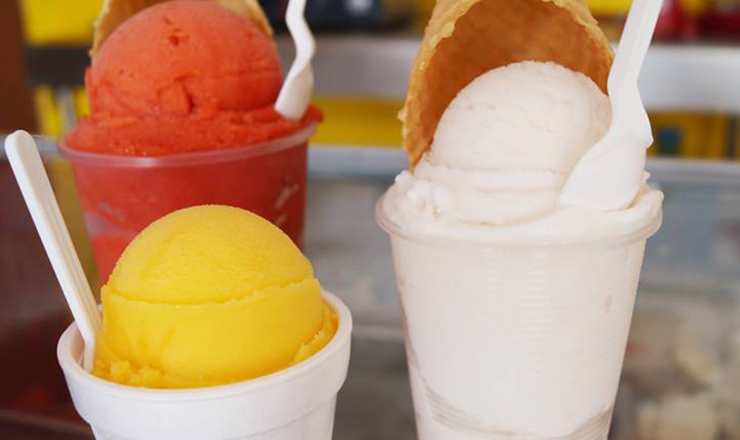 4.Pola Gelato
Another spunky spot dedicated to all things ice cream. This place offers funky creamy gelato flavors alongside the traditional Yucatecan fruit sorbets. It's the latter that is vegan and they serve up all sorts of tropical fruit flavors and have a rotating seasonal menu. I highly recommend the mamay and maracuya (passion fruit), but I often go for the avocado because it is creamier than the others. The best selections will probably be a fruit you have never heard of. With food, it is often best to jump into the unknown because you discover more wonderful flavors and textures. I especially encourage exploration into the wide selection of tropical fruits available year-round in the Yucatan. This place just a block from Parque Santa Lucia is conveniently located within walking distance from many of the restaurants you will want to enjoy while in Merida. It's worth a stop by during an after-dinner stroll and you can carry your ice cream all the way to the main square while you enjoy it.

Location: Calle 55 between 62 and 64, Parque Santa Lucia, Centro, Mérida, Yucatan
Hours: 12 noon-10 pm (open daily)
5. Casa Gelato
I'll admit I went to this place the first time because their theme is turquoise and I love a good green. This is a real deal gelato shop and their creams are heavier than the traditional Yucatecan sorbets, but I like that. As an American, I love a good heavy ice cream and finding that quality in a vegan frozen treat can sometimes be a challenge. Casa Gelato delivers cold, creamy goodness that fills my happy vegan soul. Not only ice cream though they have popsicles, cold drinks and to my surprise hot ones as well. This little spot is welcoming you in for a short afternoon chat with friends. Plus did I mention they have a turquoise theme? Seriously all your pictures look better with green. Don't believe me, go eat their chocolate or mango flavor and photograph your cone against their entry wall. That picture will likely be the definition of insta-good, and your belly will surely agree.
Location: Calle 60 between 51 and 53 (in front of Mercado 60), Centro, Mérida, Yucatan
Hours: 10 am-10 pm (Monday -Wednesday) 11am-Midnight (Thursday-Saturday) 8am-7 pm (Sunday)