After a two-year absence due to the pandemic, the traditional Xmatkuil's Fair returned this year in the 48th edition, the fair started on November 11th and will end on December 4.

During those days in 97315 Mérida, Yuc. Will be open from 8:00 am to 2:00 am. Admission is 30 pesos per person and the parking ticket will be 40 pesos.
As part of the program of activities, the daily calendar was announced, with dates, schedules, prices and artists that will perform in this edition of the traditional fair. 
This year the fair expects to receive more than 2.4 million visitors with the presence of more than 1,400 exhibitors and 3,000 events.
DO YOU LIKE THE AMUSEMENT PARK AT THE FAIR?
If you are a great lover of adrenaline and enjoy the rides like ferris wheel, carousel, dark rides, roller coaster, bumping cars, this year the fair has very attractive packages of passes, these are the prices:
Package 1: 25 tickets for $225 pesos (10% savings)

Package 2: 40 tickets for $320 pesos (20% savings)

Package 3: 60 tickets for $420 pesos (30% savings)
In addition, on Mondays and Tuesdays, a "Magic Bracelet" is offered to go up to all the amusement park games, as many times as you want. This promotion does not include the "Crazy Mouse", " Booster" and "Toros".
Xmatkuil's the amusement park will be open from 8:00 a.m. to midnight.
AMAZING CIRCUS AND SHOWS.
If you like the shows, "The Forever Circus" returns to the fairgrounds. As described, "the stage is transformed into an elegant celebration hall, with dancers, acrobats and jugglers who will recreate the staging prior to a great celebration".
Monday through Saturday there will be two performances: 6 pm and 8 pm. On Sundays and the holiday of November 21 the schedules will be: 12:30 pm, 4, 6 and 8 pm.  Admission is free for all audiences.
CIRCUS "TORMENTOS DEL TERROR" IN XMATKUIL'S FAIR
For teenagers and adults there is another option in circus shows. "Tormentos del Terror" is a thematic show "to live the adrenaline and amaze you with attractions of international quality".
Monday to Friday, performances will be at 5:00 pm and 7:00 pm. On Saturdays and Sundays there will be one more show, at 9 pm. Admission is $40 pesos.
PONYLAND: FOR ANIMAL LOVERS
Ponyland is a place where the family, but especially children, can spend time with animals. You can find miniature species such as horses, ponies, donkeys, cows, goats, pigs, roosters and rabbits. There will also be South African boer goats, Nubian goats, Jacobs Four Horned Sheep, American Quarter Horse and Australian cattle dogs.
Ponyland is open in the livestock shed Monday to Thursday from 9 am to 2 pm and 4 pm to 8 pm. From Friday to Sunday it will operate from 9 am to 8 pm. The entrance fee is $50 pesos per person.
"VILLA MARAVILLA" AT DIVERTILANDIA XMATKUIL'S FAIR 2022
Can you imagine touring the sets of your favorite movies?
 Well, at the Xmatkuil fair you will be able to do so in the "Villa Maravilla", which will be located in the Divertilandia area, an adapted space with life-size sets of figures of different characters, where children and adults will be able to enter a different world. Among the figures that will be there are Harry Potter, Marvel Superheroes, The Minions, Paw Patrol, Disney Princess and E.T.
The "Villa Maravilla" is open Monday to Friday from 9 am to 2 pm and from 4 pm to 10 pm. Saturday, Sunday and the holiday of November 21 will operate from 10 am to 10 pm. Admission is free.
CONCERTS AND PERFORMANCES
The traditional fair could not be complete without its concerts and various shows offered in its different venues, such as the people's theater, the Montejo entertainment center and the traditional Palenque Xmatkuil.
With shows for all ages, some of them totally free and others with an entrance fee. Here we tell you more about the guest artists, dates and prices.
The "Centro de Espectáculos Montejo" will host the free shows that the Xmatkui's Fair will have this year. The following is the list of artists who will be performing free.
Ángela Aguilar, on Saturday, November 19, at 9 pm.
Free events at the Teatro del Pueblo will be at 9 pm. The following is the list of artists:.
Los Súper Lamas, on Wednesday, November 16th.

Paleto, the voice of cumbia, on Thursday, November 17th.

Lossana, with "Tribuno a Selena", will be on Friday, November 18th, at 7:30 pm.

El Gran Silencio on Friday, November 18th.

Banda R-15 and Estampida Musical on Tuesday, November 22th.

Germán Montero on Wednesday, November 23th.

Chico Che Che Chico on Wednesday, November 23th, at 7 p.m.

Nelson Kanzela, Thursday, November 24th.

Junior Klan, Tuesday, November 29th.

Wapayasos, December 1th.
CONCERTS THAT WILL NOT BE FREE
Natti Natasha and Dread Mar I will perform on Saturday, November 26 at 9 pm.
Tickets are on sale at ticketstar.com.mx and the price is :
Fan Zone, $3,300 pesos

VIP Box, $2,420 pesos

Gold Zone, $1,650 pesos

General, $550 pesos
La Banda MS will be on Saturday, December 3, tickets can be purchased at tusboletos.mx Prices are:
Dance Floor, $1,200 pesos

VIP Grada A, $1,000 pesos

VIP Grada B, $1,000 pesos

General, $450 pesos
Carlos Rivera was the first artist to be announced at the palenque of the Xmatkuil Fair. The singer will perform on Thursday, November 24th at 9:30 pm.
Ticket prices, which can be purchased at tusboletos.mx, are as follows:
VIP, $3,975 pesos

Gold, $3,450 pesos

Silver, $3,035 pesos

Seats, $2,300 pesos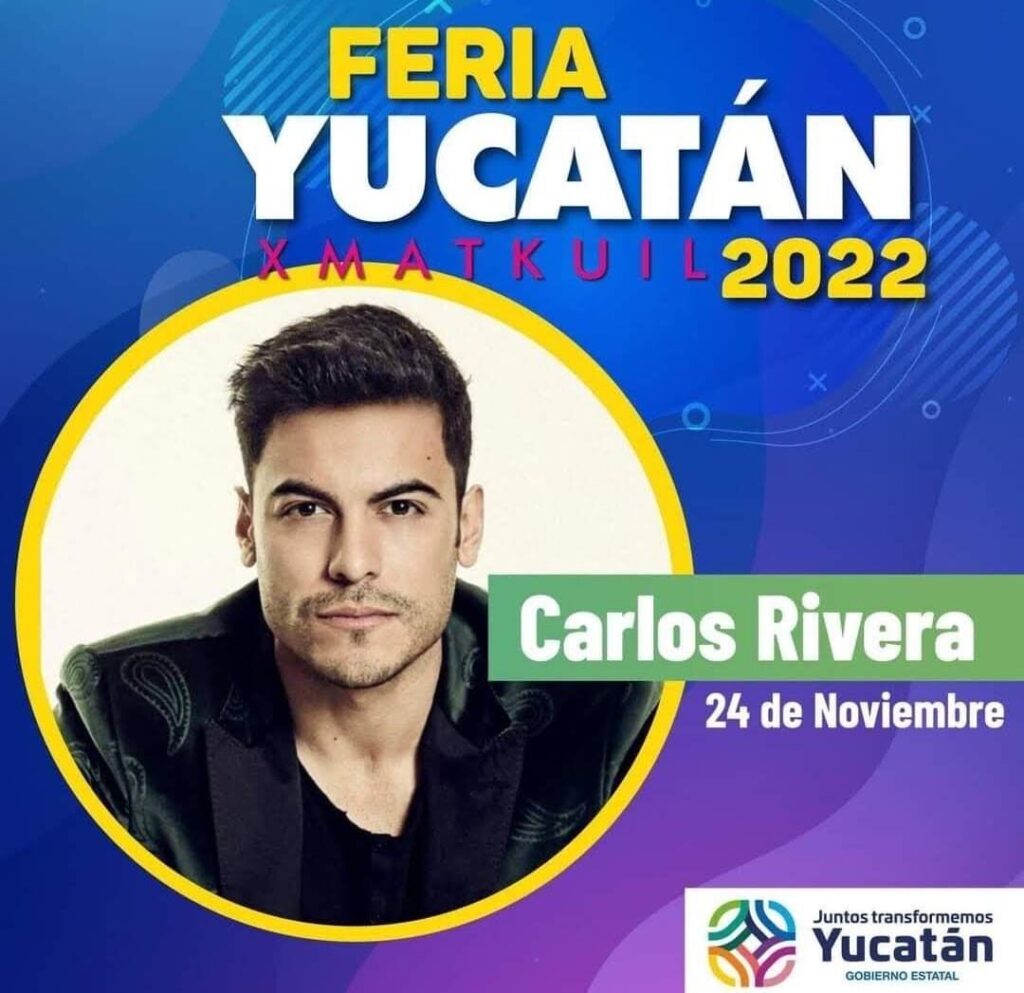 Bleacher tickets for this concert are already sold out.
Grupo Merenglass will have the audience dancing at the fair's palenque on Friday, November 25th. The event will be free and the schedule has not yet been announced.
Ramón Ayala is another of the artists who will be performing at the Palenque de Xmatkuil. He will perform on Saturday, November 26th. Tickets to see the "king of the accordion" can be purchased at ticketstar.com.mx. The concert schedule has not yet been announced.
Regular VIP, $1,760 pesos

Regular Gold, $1,100 pesos

General Regular, $440 pesos
FREE REGIONAL EVENTS IN THE XMATKUIL'S FAIR
In addition to the announced national and international artists, there will also be activities such as regional theater and comedy presentations and a grand "Vaquería". All these events are free of charge.
On Friday, November 25th the Teatro del Pueblo will be "La Gran Vaquería", starting at 7 p.m.

On Saturday, November 26th, "Dzereco y Nohoch" will be at the Teatro del Pueblo at 6 pm. 

On Sundays 13 and 27 they will be at the "Rincón de la Comedia", at the same time.

"Taco de Ojo" will be on Sunday, November 27th at 4:30 p.m. at the Teatro del Pueblo.

On Sunday, December 4th, it will perform at the "Rincón de la Comedia", at 6:00 p.m.

Nani and Mactá will perform on Friday, December 2 at the same venue at 9 pm.
Don't miss the traditional Xmatkuil's fair, the largest fair in the entire Yucatán peninsula, and follow our social networks and website www.midcitybeat.com to stay informed of upcoming events in the city.