We spent three days in Campeche City, Campeche which is a state rich in culture, history and culinary tradition and we got to experience quite a bit in our short stay. The city was founded in 1540 by Spanish conquistadores as San Francisco de Campeche atop the pre-existing Maya city of Can Pech. The city retains many of the old colonial Spanish city walls and fortifications which protected the city from pirates and buccaneers. The state of preservation and quality of its architecture earned it the status of a UNESCO World Heritage Site in 1999. It's an absolutely beautiful and charming city to visit.
Where to Stay? Casa Don Gustavo Boutique Hotel
We were lucky enough to stay at the Casa Don Gustavo Boutique Hotel, a house originally from the 17th Century. It is situated right on Calle 59, Campeche's main tourist street that is closed off to traffic and is lined with restaurants and boutique shops and hotels. Don Gustavo has hand picked each piece of furniture in the small boutique hotel all in the style of the French influence furniture from the 19th Century. He wanted to create an ambiance and feeling of living in the past with modern and luxurious amenities. Each piece is absolutely stunning, and comes from different antique stores from all over the world.
**Promo for the month of June, their anniversary month. 50% off all rooms and 2X1 in Aperol Spritz and Mimosas for breakfast at their restaurant**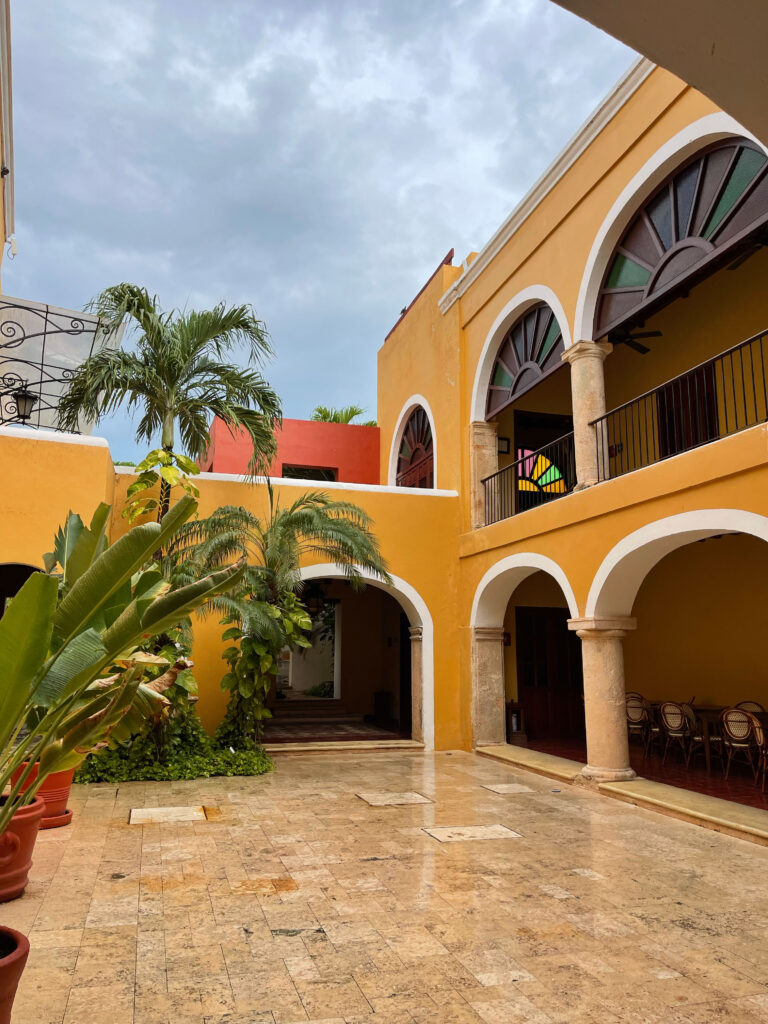 Each room has its own charm and design. In the master suite Don Gustavo, I had a lovely view of the Calle 59 street and could see the top of the Campeche Cathedral. The service was superb and all staff were very attentive. The restaurant serves a delicious breakfast, their signature dishes being the huevos motuleños and chilaquiles. Don Gustavo himself came to greet us at the hotel and it was such an honor to meet him. 
The staff at the hotel were also very hospitable and took us on some incredible tours to get to know the city and surrounding areas.  
Campeche Tarpon Fishing and Mangrove Tour
We were taken on a tour through the mangroves just off the coast with Campeche Tarpon tour company who specializes in tarpon fishing, fly fishing and boat rides through the mangroves. We went fishing, and I even caught (and released) a fish! That was a first for me! Plus they brought us to an incredible ojo del agua or fresh water spring in the middle of the sea and the mangroves. The spring was beautiful crystalline waters and you could see small fish swimming around. We jumped in and were able to swim around to cool off. Our guide Pechuga was awesome, filling our trip with interesting anecdotes and guidance on how to fish!
We got a dramatized night tour of the historic center by Vive la Leyenda, a great guide who knows a lot about the history of Campeche city and all the buildings and churches. It was super fun and very educational. It's highly recommended to get some fascinating information about this town so rich in history and culture.  
Trolley Tour of the Historic Center and Surrounding Neighborhoods
We took the tranvia tour of the the center and the surrounding historic neighborhoods with Patronato Campec and were able to see the malecon, many churches and the picturesque town. We also listened to a bilingual tour guide tell us about the history of specific buildings and areas. It was also an educational experience worth the ride! 
Where to eat in Campeche?
An incredible treat in the historic center, La Maria has fine cuisine that includes meat, seafood and vegan dishes. We had an incredible meal with great mixology and wine pairing. 
A Campeche tradition of over 40 years and the only restaurant who has the status of Tesoros de Mexico for their loyalty to the local food and excellence in service and gastronomy. La Pigua is a must visit restaurant of fine dining seafood. Every dish was superb. They also have a nice mixology menu and house wine that is made especially for them from Las Nubes vineyard. An exceptional foodie experience.
A traditional snack food restaurant that has awesome panuchos, tortas, sopas, tamales, empanadas and more. The flavor and freshness was the best. For an "antojito" treat check out Santaneros.
Newly opened on Calle 59 in Campeche, Briiz offers a variety of selection on their menu from Philly steak sandwiches to huitlacoche wontons and pizza or pasta. They truly have an option for all tastes and each dish we tried was excellent. They also have great mixology and nice selection of mezcales and wines
If you need a 3-5 days break from Merida or are coming here to visit and want to check out the surrounding areas, we would highly recommend taking the 2 hour drive to Campeche.