April 30th and May 1st the art and design collective NUUP Colectivo who houses Takto Design and Blanco Mate Interior Designs, had an open house where art, furniture, objects, interior designs and fashion were all on display. The artists and designers are internationally known and recognized and their work is absolutely stunning. At their gallery and workshop you can see various pieces on display both functional and decorative, plus you can get a sneak peek of their workshop where all the magic happens.
If you weren't able to make it to the open house you can stop by to check out the gallery and workshop during their open hours. (see below)
The artists who displayed their work for the open house were: 
Ana Laura Long– interior design
Angela Damman– regenerative textiles, handbags, interior and exterior designs and unique objects
Julia Maché –fashion designer and artist
Katrin Schikora –visual artist, sculpture, ceramics, wood furniture, photography
Mauricio Cervantes –painter and visual artist
Engracia Martinez –visual artist
Colección George Samuelson —carpentry and design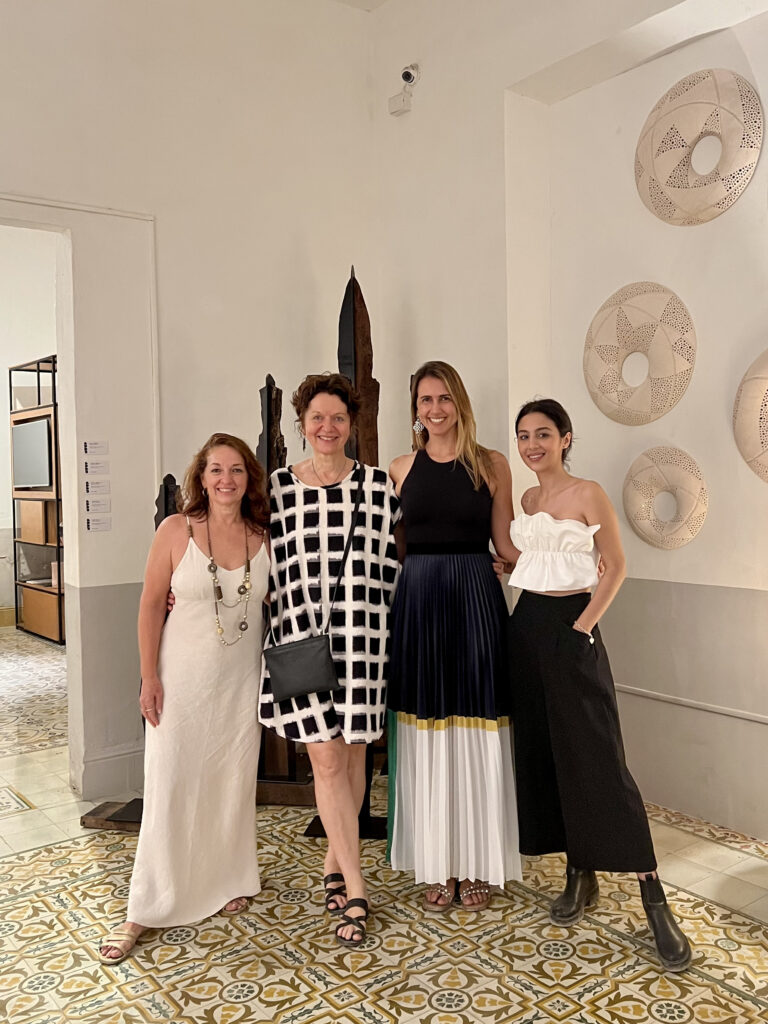 Artists at Takto: (information from https://en.takto.mx/nosotros) 
TAKTO, which literally means touch or feel, is the essence behind this group of artists who create pieces in wood, ceramics, photography and more. They are inspired by touching the material and listening to what it tells them to create. The artists at TAKTO Design work with decor, lighting, furniture, sculptures and share a great enthusiasm for art, design and the beauty of natural materials. All their work is produced 100% by hand in the workshops inside and outside of Mérida, as well as in the rural communities of Yucatán, México.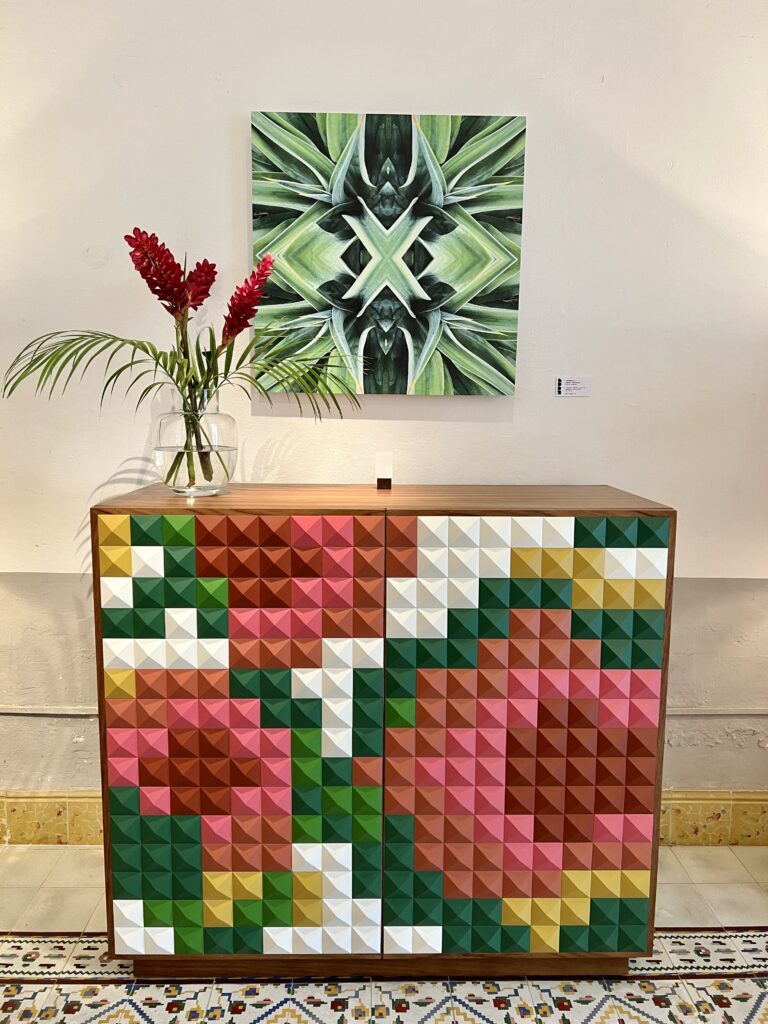 Of German origin, Katrin is co-founder of TAKTO, together with the late George Samuelson. Katrin has been living and working in Mexico as an artist for over 20 years. She has exhibited her artwork widely, both nationally and internationally, for which she has won numerous prizes and awards and has realized a great variety of commissioned work for private, commercial and public spaces.
She has an incredible eye for photography and her pieces are stunning, some printed on metal which brings out a very unique texture and perspective. She also creates wood sculptures and functional pieces. Her ceramic light fixtures and sculptures resembling coral from a barrier reef are spectacular. She is multi-talented and her work is widely sought out for decor. 
Katrin is currently in the process of developing a new ceramic product called aquapeanut®, produced with EM technology (based on Dr. Higa's research) to deprogram and revitalize water. Katrin is co-founder of edúcaTE Yucatán AC, a non-profit organization helping the children of Cholul to realize their potential, supporting their education.
Angela is an American born designer now living in Mexico. Since her arrival in the Yucatan Peninsula in 2011, Angela has been inspired by local artisans and their ancestral techniques to transform the vegetable fibers of the region into bags and luxury products for interior design.
 Combining her passion for textile design with her expertise in sustainable economic development, Angela collaborates with women in rural villages to integrate their beautiful craftsmanship with a contemporary design aesthetic. This unique collaboration has led to technical and design innovation in the field of textiles, as well as creating a global entry into new markets for natural fiber-based products.
George Samuelson collection
George was born in Mexico as the son of Swedish-Colombian parents. He was a co-founder of the TAKTO Design company, together with his life partner, designer and visual artist Katrin Schikora. He was an artist, designer, architect and inventor.  He worked with several of Mexico's most prestigious architects between 1985 and 2000, and ran carpentry workshops in different locations producing his own furniture designs. He also designed and built dream homes in Valle de Bravo, Edo. of Mexico and in San Miguel Allende, places where he lived alternately during this time. 
 His last dream fulfilled was setting up his carpentry and blacksmith workshop in the center of Mérida, Yucatán, where he had come to live in 2005. George's designs continue to be produced in TAKTO's workshops with the team of workers he trained over the years, keeping his vision and passion for design alive.
Blanco Mate is an interior design house and the creation of Ana Laura Long. At Blanco Mate they create interiors with personality that reflect the needs and desires of each client. They design and produce incredible furniture and decorative objects. Their workshop is located at the Nuup Colectivo and their pieces are stunning.
Monday to Friday 10am-5pm
Calle 35 #526E x Av. Reforma y C. 72A, Centro, Mérida, Yuc.
For more information: 
Telephone: 999 4472345
Cellular: 999 9905122