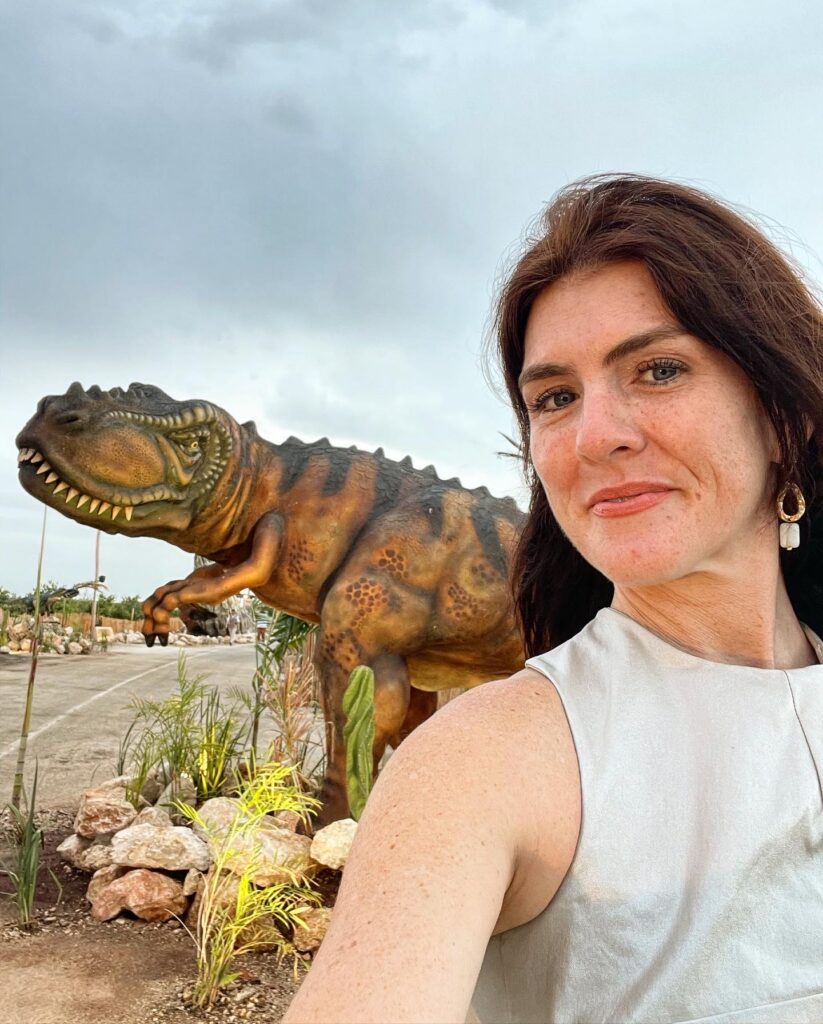 May 30th the Jurassic Trail or Sendero Jurasico was inaugurated in the estuary of Chicxulub Puerto by Mayor Julian Zacarías, Governor Mauricio Vila as well as scientists and dignitaries. The trail was built as a tribute to the great meteorite which fell on the planet 66 million years ago, the epicenter of the impact being right here in Chicxulub, Yucatan. The crater was discovered in the 1970's by Antonio Camargo and Glen Penfield, geophysicists who had been looking for petroleum in the Yucatán Peninsula; however, it wasn't until the 1990's that Penfield was able to obtain samples of the crater that produced evidence of a Cretaceous–Paleogene boundary which dates back to 66 million years ago. It is now widely accepted that the devastation and climate disruption from impact of the meteorite was the cause of the Cretaceous–Paleogene extinction event, a mass extinction in which 75% of plant and animal species on Earth became extinct, including all non-avian dinosaurs.
Now is the first time in Yucatecan history that the local government has come together to mark that event with an official park and education center. The park is set alongside a road parallel to the highway that was once used as a large garbage dump, causing terrible contamination to the beautiful marshland. Now it houses the Sendero Jurasico and keeping its ecology clean is a high priority. The Progreso town hall in particular Mayor Julian Zacaría and Councillor Karim Dib López along with his team have been working on this project for over two and a half years. They were planning on breaking ground when the pandemic hit. 
When you visit you will see several large mechanical life-size dinosaurs, a marine turtle sanctuary, and an interactive podcast guide both in Spanish and English (the English voice you will hear is that of Stephanie Carmon, editor of MID CityBeat :). Also it is housed with a very friendly and informed staff of "amigos jurasicos". They can guide you around the park and answer any of your questions, There are also lookout points with an ipad educational system to learn more about the area, the animals and the event that changed the course of life on this planet. 
This is a breathtakingly beautiful zone where you will not only be able to visit the Jurassic Trail, but also see migrating birds such as flamingos and wild ducks, possible crocodiles and much more. It's quite magical. 
It is located on the Chixchulub highway heading towards Telchac from Progreso. You will see it on the right hand side.
One parking lot is located behind the gas station on the highway in Chicxulub
The other one is located by the police station "Víctor Cervera Pacheco" that is located just meters from "El Corchito".
Parking cost: $30 pesos for 2 hours and $10 pesos each additional hour
Public transportation: There will be a public transport called "Sendero Jurásico", it will cost $15 pesos, details of this transport will be available soon.
The park has not officially opened yet to the public. In the next couple of weeks, there will be private guided tours for schools, and then after those initial tours, it will open for the public. Stay tuned…