Villa Mercedes Historic Icon
The iconic Villa Mercedes Mérida which is now part of the Curio Collection by Hilton opened its doors just a few months ago and it is a beautiful place to visit whether you are visiting Merida or live here. It's the emblematic blue building located on the Corner of Calle Colon and 60. The stunning architecture dates back to the early 20th century Porfirian era and its fascinating history is alive and present as you walk through the hotel. 
Displayed for the guests are remnants of the past such as the portrait of Mercedes Peon, who the hotel is named after. Mercedes was the wife of a French hacienda owner and the first Consul to France in Merida. They had four children and this elegant home was her family's residence for many generations.
As is characteristic of Merida,  the historic site is fused with trendy contemporary design. They have a chic lobby bar, a pool, 127 rooms and large meeting centers.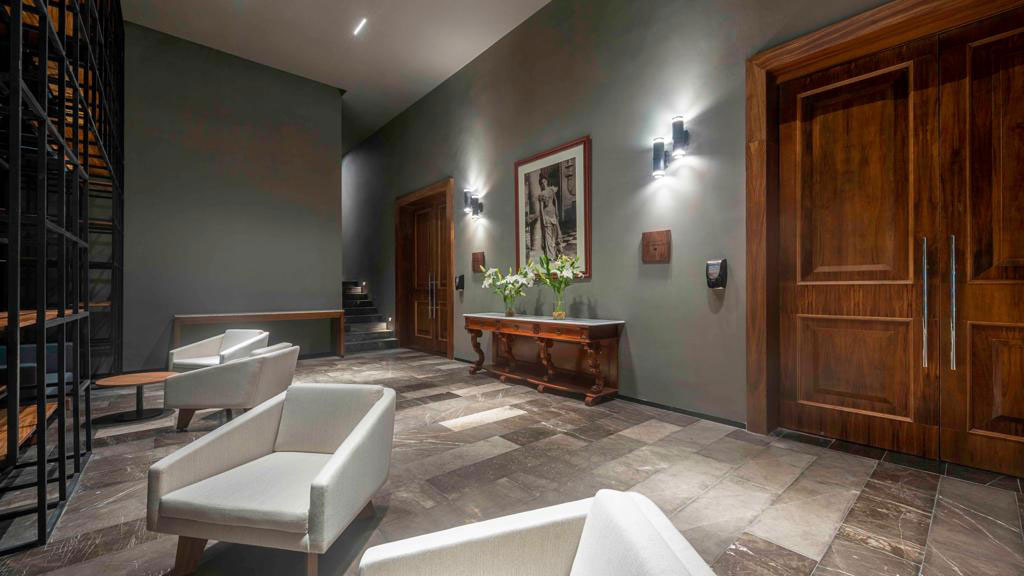 New Year's Eve Dinner at Villa Mercedes Hilton by Curio Collection
Cost: 1,900 pesos per person (children 4-12 years old 50% off)
Price includes: Buffet, non-alcoholic drinks, 12 grapes, DJ Music, a glass of wine to cheers at 12 midnight. 
Reservations: 999 942 9000
For you foodies out there, at Villa Mercedes you can find a wood-fired influenced kitchen that overlooks the pool and they are opening two new restaurants–Italian and Japanese. The first being the Japanese restaurant Asai which will open Saturday, December 18th. I got a sneak peak look at the restaurant at their soft opening and was able to catch up with the chef to have him tell us a bit more about what to expect. You can check my interview with the chef Yasou Asai in the video below. 
Asai Japanese Restaurant
Asai serves authentic Japanese cuisine with a "twist" of Chef Asai additions including cactus sushi and delicious braised beef.  Asai's first restaurant is Kaiseki in Mexico City and is characterized by the great value given to fresh ingredients, textures, colors and portions. It's a great success in Mexico City because of the unique flavors you can find in Chef Asai's food. We are excited to have the 2nd restaurant right there in centro.  This restaurant is a not to miss restaurant for foodies in Merida.
Opens December 18th  6pm- 10:30pm  Closed Mondays
Reservations: 999 315 7770 
El Centro Cocina a la Leña
The breakfast buffet is excellent with a wide variety of choices! It is served everyday from 7-11:30am. The rest of the day is a la carte off the menu with many delicious dishes prepared in their wood fired oven. You will definitely enjoy a nice meal at El Centro. 
Open hours: Monday to Sunday
Breakfast 7-11:30am Lunch 12-4pm Dinner 6-11pm
Reservations: 999 942 9000