Casa Mo & Casa Mo Outlet: Restoring Cultural Gems for Your House
Written by Stephanie Carmon
In July of 2019, I met Alfredo the owner of CasaMo a furniture store and gallery where you can find exceptional and rare treasures from the Modern Mexico Era (1920-1960's more or less). He has a keen eye and has been a collector for years, buying most of his pieces in Mexico City and shipping them to Yucatan.  At Casa Mo Gallery you can find designer one of a kind collectors pieces by designers such as Don Shoemaker, Michael Van Beuren, Eugenio Escudero and on occasion even Clara Porset or Luis Barragan. Casa Mo Gallery is located on Calle 62 and the corner of 49 in the heart of the Centro. However, in the summer of 2022, he opened his doors with Casa Mo Outlet where you find furniture from the same era, just not from specific designers and at a more accessible price. And this little gem tucked into a house from the 19th century on Calle 70 #572e x 77 y 79. 
Owner Alfredo is a Modern Art enthusiast from Mexico City.  He sells fully functional furniture that are part of the Mexican Modernism legacy.  He has dedicated the last few years to collecting original designer pieces from celebrated architects and designers of the time. As you walk into the showroom it seems as if you are walking back in time to the 40''s, 50's, 60's, or 70's. You see the various pieces with their sleek, straight lines and smooth, shiny surfaces characteristic of modern furniture. The Mexican Modernism style was also inspired by Mexican artisans so you will see subtle usage of wicker, or palm as well as woven patterns, and  details in turquoise or bronze. 
He collects original pieces–with certificates of authenticity, backed by academic investigation– and restores them to their full glory. It's the first store of its kind in Merida with unique designer furniture from this time period. His collection includes works from leading architect Luis Barragán, winner of the Pritzker Architecture Prize, the highest award in architecture, and whose personal home The Luis Barragán House and Studio, in 2004 was declared a UNESCO World Heritage Site . 
Alfredo also has work from renowned award-winning designers, and architects such as:
Don Shoemaker: one of the most important representatives of Mexican modernist design. In the 70's he experimented with lineal designs combining traditional functionality. 
Michael Van Beuren:  His designs became very popular during the Mexcian modern boom and he was the first to start a company dedicated to producing furniture on a mass scale. 
Hans Wegner: Designer of Danish style furniture and his style is described as "organic functional". When John F. Kennedy and Richard Nixon came together for the famous 1960 debate on television, they sat in the Round Chair designed by Wegner. 
Eugenio Escudero: Designer of Mexican furniture from the '50s. He is recognized for the lines in his furniture and the bronze incrustations
What Alfredo has to offer at Casa Mo are functional works of art, drenched in history and glory. These pieces are artistic and cultural gems that he has brought to Merida, Yucatan.
History of Modernism and How It Came to Mexico 
From 1919 to 1933, The Staatliches BauHouse in Germany was a center and school for modern crafts and fine arts,  legendary for its approach to design. Founded with the idea of creating a "total work of art" in which all the arts, including architecture, would eventually be brought together, the Bauhaus style quickly became one of the most influential design houses of its time.  However, when the Second World War began, most leftist designers from the Bauhouse, fleeing Nazi Germany, found refuge in other countries in Europe, the US, and Mexico. Mexico City, being a cutting-edge metropolitan city, has always been a hub for artists, culture and the newest trends in design. Relatively quickly with the influence of international designers including those from the BauHouse, Mexico City became a mecca of modern art.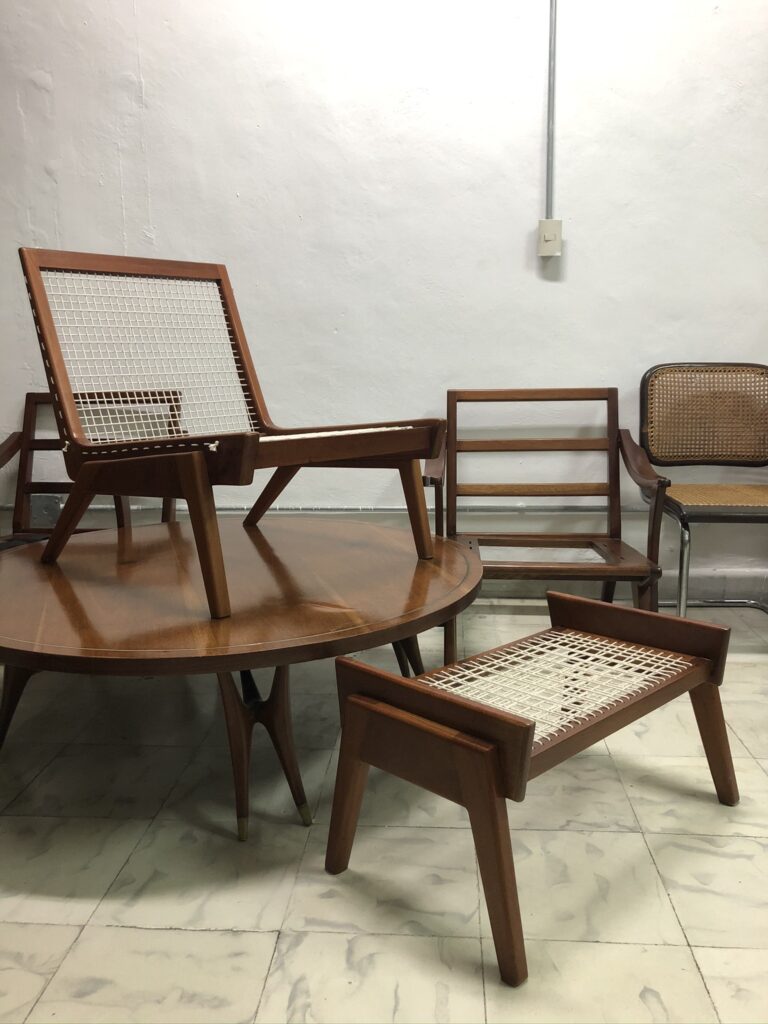 Fast Forward to Now
Now, of course, trends have changed and this modern furniture although fully functional has become a collector's item: a functional work of art.  A great thing about these pieces is that they are also environmentally friendly, restored furniture is doing its part to help lessen the clearing of forests and reduce the pollution from furniture factories. 
Casa Mo offers homeowners and collectors a great opportunity to display brilliant works of art and a piece of Mexican history in their homes. 
Open Hours: Casa Mo & Casa Mo Outlet
Open Monday-Friday 11am-7pm
Saturday 11am-3pm
Casa Mo  Calle 62 corner of 49  Centro Merida, Yucatan
Casa Mo Outlet   Calle 68 #507 Centro Merida, Yucatan
You can check out their Instagram here: 
 https://www.instagram.com/casamofurniture/