Written by Stephanie Carmon
Merida, Yucatan has become quite the hot spot to visit and live for international guests. There are so many unique places to visit and experience that the curious minded are quickly making this state top on their travel priority list. Here we have put together a list of five very special places to stay while in Merida. We hope your visit is a nice one and you come to love Merida as much as we do.
Casa Puuc 
The last time I went by Casa Puuc, I got caught in one of those intense torrential downpours so familiar during a Merida summertime. Although I was dripping wet, I do have to say it's a lovely place to take shelter from the rain. The five bedroom boutique hotel is located in the beautiful and quiet neighborhood of Garcia Gineres right across from Parque de las Americas. As you walk in you see that the receiving room is a Mexican art and craft store boasting fine arts from around the republic of Mexico. Continuing through the boutique airbnb, you find a beautiful space filled with rich Yucatecan history. 
The house was designed by the famous Yucatecan architect, Manuel Amabilis. Amabilis' work is iconic in Yucatan and abroad. Some of his recognizable buildings around town are the Sanitorio Rendon Peniche, across from the Museo de Ferrocarriles, the Parque de las Americas. He was also involved in the design of the Monumento a la Patria on Paseo de Montejo, among many other buildings. He was also the person who devised Garcia Gineres, Merida's second neighborhood after the historic center. In this district, the houses are large and many have substantial yards surrounding them. One of Amabilis' first projects as an architect, Casa Puuc was named after the Puuc Maya architectural style he used in the balustrade of the house. Finished in 1914, it is considered an example of Avant Garde because it mixed French style architecture, popular at that time, with Maya Puuc–style open arches on the terrace and very tall doors made of cedar. This was a quirky detail of Ambilis's designs and a precursor to the Art Deco Mexicano. 
Staying at Casa Puuc you not only feel the modern history of Merida, but you are in an ideal location. It is a quiet and safe place to walk and just a short Uber or bike ride to Centro or to the north end of town. There are five guest rooms in total including a lovely separate suite in the back  of the house overlooking the pool.  A large common living room, a terrace indoor dining room, and a work area for those digital nomads are also part of the hospitality..  A wide patio with a swimming pool, hammocks and lounge chairs to enjoy your afternoon by the pool await guests. Breakfast is included in your stay, and bicycles are available courtesy of the hotel. Casa Puuc is also available for small events or private dinners upon request. 
Location: Garcia Gineres 
El Palacito Secetro
El Palacito Secreto opened its doors in April of 2018, and it is a royal retreat here in the tropical city of Merida. Arriving at a seemingly normal house with a simple facade, one would never guess what is behind the doors. It truly is a secret palace right in the heart of the Centro.
As you walk in you are warmly welcomed by the receptionist who shows you to your room. The design captures a striking display of French architecture which was a pillar of the architectural design in Yucatan and Mexico in the 19th Century. Each detail of this hotel was created and designed by one of the owners, Martine. The central area is stunning, you will see tall pillars made of solid natural stone and long flowing white curtains swaying in the breeze. The focal point of the hotel is the spectacular pool, decorated with mosaics in its backdrop.They There are eight luxury suites adorned with antiques, many of which originate from Europe and were brought to the peninsula in the 17th and 18th century. Each suite is named after both modern-day and historical European princesses – Suite Isabella, Suite Beatrix, La Suite Grace, Suite Anita just to name a few.
I was lucky enough to have a "staycation" here not long ago. It was wonderful: I arrived in the evening and was shown to my elegant room, the Anita Suite; at 9pm the masseuse waiting for me led me to the spa which is located behind the second pool, through a Victorian style common area with incredibly high ceilings and a table long enough for 12 settings. Every part of this hotel makes you feel like you have been transported in time. It is an oasis and a perfect place to feel swept away, leaving behind your regular routine. After the hour-long massage, I headed to my room, grabbing a beer from the refrigerator, stocked for guests. I enjoyed it on my balcony overlooking the dimly lit pool the romantic summer vibe!
El Palacito is family-run. Two in-house chefs offer breakfast included in the stay for their guests.They have also just added a new bar, equal in beauty to the rest of the little palace..
For more information:
https://www.airbnb.ie/users/40022629/listings
https://www.elpalacitosecreto.com/
Hotel KA'A
Hotel KA'A is a new and stunning boutique hotel on the border between Centro and Garcia Gineres, tucked into an area where you will find some of Merida's most well-known residences: known for their history, spectacular architecture and for housing Jackie Kennedy Onassis on one of her visits to Yucatan. It is on Calle Reforma between Cupules and Colon, and is just a half a block away from Slow Food Yucatan Saturday market, cafes, restaurants and natural food stores.
As you walk in through the gates of Hotel KA'A, you find an outdoor terrace bursting with lush greenery, a large picnic table for casually working, and chairs placed around the area to relax or read quietly. At the beginning of the pandemic, the new owners slowly but surely transformed what is now Hotel KA'A into a nature retreat in the heart of the city. KA'A reflects the Wabi Sabi style inspired by the "beauty of imperfection," evoking a fresh, rustic simplicity and serenity in the natural world around us and in objects used in the design. There are nature and sensory inspired artworks and antiques decorating the space. The terrace floors are pieced together with railway ties that were gathered from around Yucatan, evidence of the bygone days of the transportation of henequen during the boom of the 19th Century.
Here you can find 4 rooms each having their unique charm whether it be a private pool or an antique bath on the sunroof. The bedrooms are spacious, light and decorated with beautiful and original pieces of furniture. Herbs and spices from the garden and fresh and organic local products make the included breakfast unforgettable. Bicycles are available and for a perfect way to explore the city center. KA'A also offers a menu of therapeutic massages, magnet therapies and yoga in order to create moments of peace and to reconnect the body with the spirit. It is an enchanting space to relax during your visit to Merida.
Airbnb:   https://abnb.me/0alNaxON6hb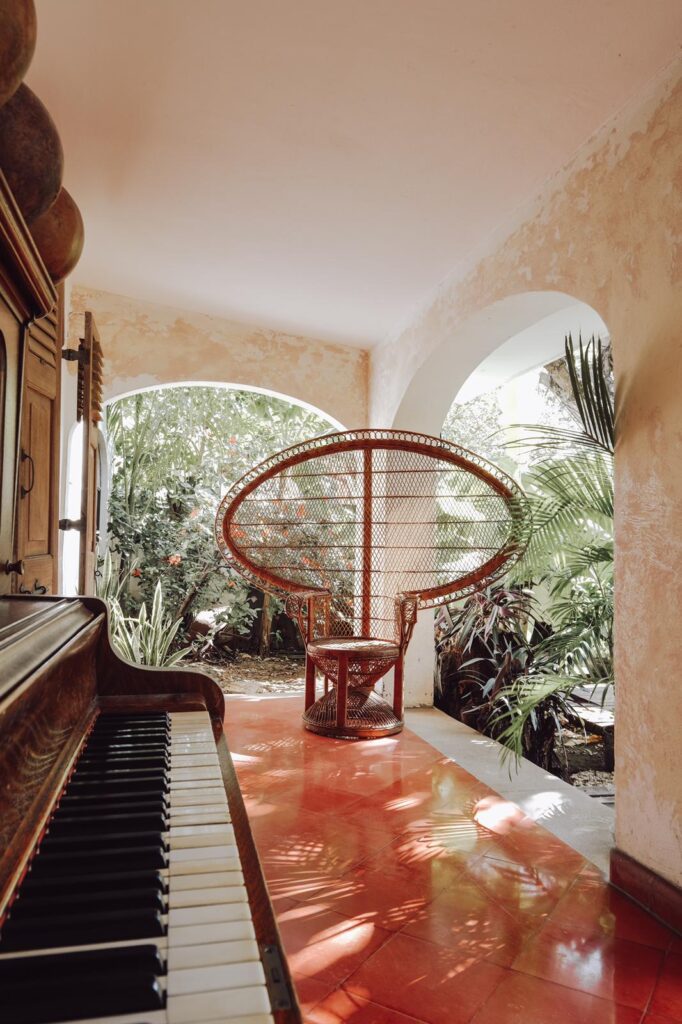 Casa Chaka
Casa Chaká is a beautiful, small and charming find in the Paseo de Montejo area of Merida, my area of residence, and favorite location in town!  Chaká was an abandoned house and lot, now recently remodeled in the historic centro. Architects Karlo Meneses and Carlos Salomón designed it into an oasis in the heart of the city. For now it has just two rooms, each one tucked into their own secret garden. 
As you arrive at the hotel, you see a modern facade and are greeted by those at the front desk. As you enter the guest room area you are transported to a magical space that unites nature, water and architecture where all guests have their own sacred space to relax and enjoy both the cozy interior and their intimate outdoor garden space.  
The downstairs room Lu'um (meaning earth in Maya) is a beautifully decorated suite with colorful Mexican popular art such as alebrijes, fantastical animal figures made of papier-mâché or carved wood, as well as paintings created by architect Meneses. There is a sliding door that connects you to the garden where the plants tower over and surround the pool which is the focal point of the lush area. It is a quaint and comfortable space perfect for a couple or someone who wants to escape the daily grind to work or relax in an urban sanctuary. To get to the upstairs room Ka'an (meaning path to the heavens in Maya) you climb a blue staircase which takes you to a rooftop pool, lounge, and a green haven. This room is also decorated colorfully with elegance and Mexican artistic charm. And the bathroom has a lovely bathtub with large windows connecting you to nature while you bathe.
The designers have created an experience that brings together nature, water and architecture for the guests to have their own sacred space for relaxing and enjoying the outdoors. It is a unique experience and a perfect location for sightseeing and walking or biking around the historic center. 
https://www.airbnb.com/rooms/46895427?source_impression_id=p3_1626985272_jMBqiVNSWVfG4th4
La Galería
La Galería is a unique space that combines art and urban lodging in one of the most historically important neighborhoods of the centro: La Ermita. Staying at this boutique hotel allows you to be surrounded by Merida's living history as well as the brilliant artwork of the celebrated artist, illustrator, designer and editor Fabricio Vanden Broeck.
As you walk into the space you will first encounter the gallery where you find a variety of Broeck's artwork on display; the pieces are absolutely stunning. He has several large black and white acrylic on masonite paintings, as well as metal sculptures portraying surreal depictions of men or women on a quest for knowledge. These pieces integrate elements of Mexican popular culture, indigenous imagery, and mythology. Broeck has illustrated many children's books. He has also garnered many awards for his political illustrations featured in La Reforma, a Mexican newspaper, as well as in international publications such as the New York Times.
On the other side of the gallery is the living/airbnb space with a kitchen, two lovely and spacious rooms as well as a swimming pool. It has everything you need to relax and enjoy your stay in Merida. It is a great spot for both vacationers and the digital nomad who needs a quiet working space. You can enjoy wine and cheese while sitting by the pool or reading a book in this space that breathes culture and life. At La Galeria you can arrange for breakfast to be served, or you can just simply walk around the neighborhood where there are plenty of traditional places to indulge in Yucatecan food. If a guest happens to be staying on a Wednesday night, they can partake in the weekly event of jazz, wine and art in the gallery. It is a "Black and White" event with fantastic singing accompanied by the grand piano. For a unique cultural experience, La Galeria Hotel Boutique is a great option.
Airbnb: https://bit.ly/3r9lxqL